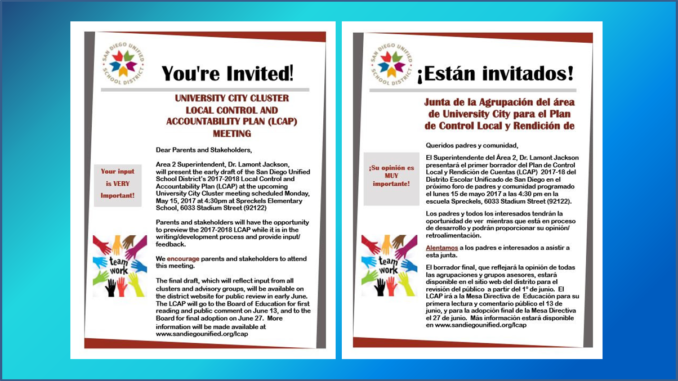 From the UC Cluster:
The next meeting of the University City Cluster Committee for public schools will be Monday, May 15, 4:30 PM, in the Spreckels Lounge at Spreckels Elementary School, corner of Governor Drive and 6033 Stadium Street.

Area 2 Superintendent, Dr. Lamont Jackson, will present the early draft of the San Diego Unified School District's 2017-2018 Local Control and Accountability Plan (LCAP) at the upcoming University City Cluster meeting scheduled Monday, May 15 at Spreckels Elementary School.

Parents and stakeholders will have the opportunity to preview the 2017-2018 LCAP while it is in the writing/development process and provide input/feedback.

We encourage parents and stakeholders to attend this meeting.

The final draft, which will reflect input from all clusters and advisory groups, will be available on the district website for public review in early June. The LCAP will go to the Board of Education for first reading and public comment on June 13, and to the Board for final adoption on June 27.
UC Cluster meeting agenda items include:
Welcome
Schools Update (Principals)
Pathway Articulation Feedback (UC Sisters)
School Board Update (Dr. John Lee Evans)
EdUCate (Bonnie MacRitchie)  https://www.uc-educate.org/
2017-2018 LCAP Draft Report (Lamont Jackson)
Mental Health Awareness Month (Lana Lo)
School Start Times (Mariah Baughn, MD)
Roundtable
The University City Cluster Committee is dedicated to improving educational endeavors and student achievement in the University City cluster of San Diego Unified public schools. Our committee has representatives from each of our 5 neighborhood schools including the principals, teachers, students and parents. For more information, visit http://www.uccluster.com/
For related posts, visit https://www.universitycitynews.org/category/uc-cluster-schools/