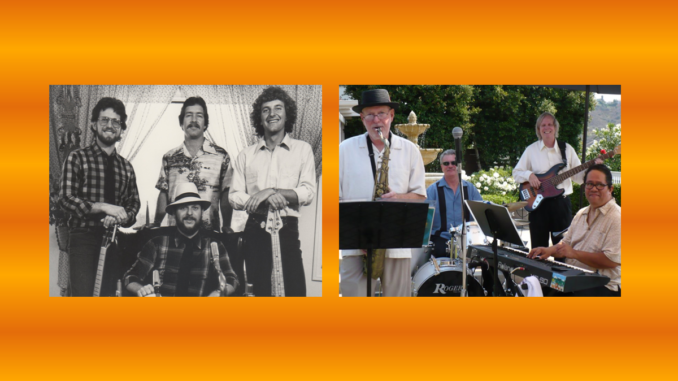 Information courtesy of Greg Pardue:
Forecast, the local jazz-rock fusion band, kicks off the annual Summer Concert series at Standley Park on Sunday, July 9. The night is even more special because Forecast is celebrating 40 years of playing jazz-rock fusion.

The band got together in 1977, starting as a duo by UC's Greg Pardue and Charlie Cates. Later, they become a quartet. The current group has been together for over 30 years.

Forecast has played during the UC Summer Concerts for seven years in a row, and will be performing many of their long-time favorites, as well as some original songs and a few gems from the past that haven't been heard for some time.

Pictured above left was the quartet in 1977, from left to right sanding is: Charlie Cates, Dick Winter, Jim Rubel, and seated is Greg Pardue. Pictured right is the current 2017 quartet, from left to right: Greg Pardue (saxes), Randy Meyers (drums), Rick Nash (bass), and Max Zape (keyborads).

Come out and help celebrate 40 years of Forecast's jazz-rock fusion sound.
---
2017 Summer Concert Series schedule:
1: Sunday, July 9, 5 PM – Forecast–Jazz Fusion – with UC Resident Greg Pardue Celebrating Their 40th Anniversary
2: Sunday, July 16, 5 PM – Baja Bugs–Beatles Tribute Band
3: Sunday, July 23, 5 PM – Rifftide–Classic Rock – with UC Resident Jill Harvey
4: Sunday, July 30, 5 PM – Full Strength Funk Band–soul and R&B – with UC Resident Pamela Gallo
4.5: Tuesday, August 1, 5:30 – 7:30 PM – Dance Marathon fundraiser to benefit SDPD
5: Sunday, August 6, 5 PM – Relative Minors and Friends–Classic Rock – with UC Resident Greg Zinser
6: Sunday, August 13, 5 PM – Teaser– Arena Rock – with UC Resident Rick Kern
7: Friday, August 18, 6 PM – Sully and the Blue Eyed Soul Band–Soul and R&B – with Radio & TV Host Bob "Sully" Sullivan
8: Friday, August 25, 6 PM – The Legends Show Band– 50's and 60's oldies
All concerts are at Standley Park, 3583 Governor Drive, University City, 92122; All concerts are subject to cancellation due to inclement weather.
For more information, visit https://www.universitycitynews.org/summer-concerts-in-standley-park/