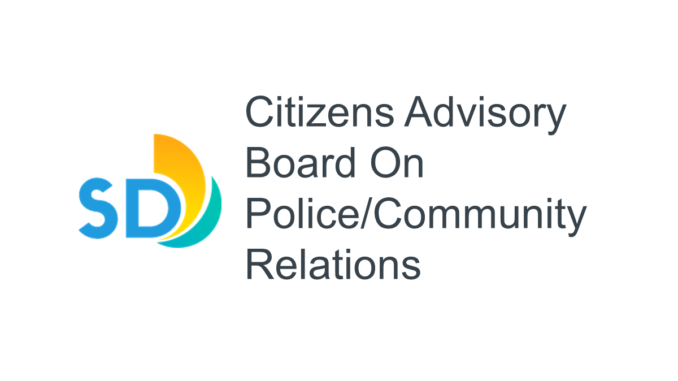 The Citizens Advisory Board (CAB) on Police/Community Relations meets the fourth Monday of each month at 6:00 PM. Meeting locations rotate each month; locations will be posted as soon as they are confirmed. On Monday, October 23, 2017, the CAB meets at Nobel Recreation Center, 8810 Judicial Drive, San Diego, CA  92122. All are welcome.
Agenda items for October 23rd meeting include:
COMMITTEE REPORTS
Board Training
Coordination
Outreach
Racial Profiling
Bylaws
ACTION ITEMS
Board Training Ad Hoc Committee Recommendation for Mandatory Training: Police Department Ride Along

Presentation by Angelica Navarro-Moran, San Diego Police Department, Internal Affairs

Work Plan

Overall Work Plan
Priority
Guest Speakers

Citizens' Advisory Board on Police/Community Relations Letter to the Community Review Board on Police Practices and Commission on Gang Prevention and Intervention Regarding Board Collaboration
Full agenda available at https://www.sandiego.gov/cab/meetinginfo
---
About the Board: San Diego City Council established the Citizens Advisory Board on Police/Community Relations (CAB) in 1990 and met until the board became inactive in 1999.
In 2016 the Mayor and City Council recognized the need for CAB to reconvene and updated CAB's powers and duties. Specifically, amendments to the City's Municipal Code modified CAB's composition, clarified responsibilities, and specified that CAB is a method of community participation in recommending and reviewing policies, practices, and programs designed to make law enforcement sensitive, effective, and responsive to the needs of the City.
The board began meeting in 2017 and continues to meet monthly to address community concerns. For more information, visit https://www.sandiego.gov/cab