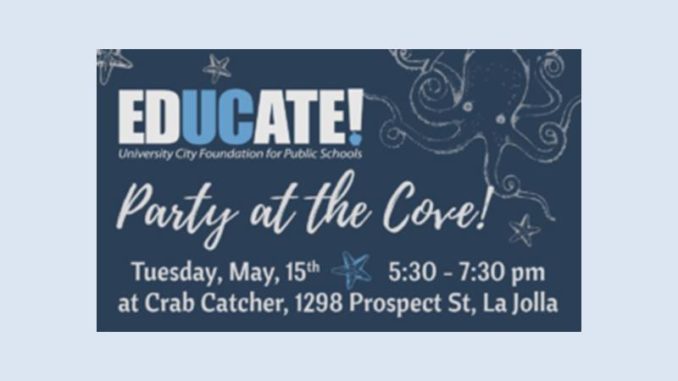 Join EdUCate! for a Party at the Cove at the Crab Catcher, a premier La Jolla Cove ocean view restaurant. Family owned and operated for over 35 years, Crab Catcher is one of San Diego's best seafood restaurants.
Date: Tuesday, May 15th
Time: 5:30 – 7:30 pm
Location: Crab Catcher, 1298 Prospect Street, La Jolla, CA 92137
Auction: Preview items for the EdUCate! Spring Online Auction with the option to bid on items or Buy-It-Now. There will be special secret auction items available only at this party! The Online Auction will continue until Monday, May 23rd.
Attire: Dress for a Party!
Tickets: $35 in advance through May 11, $40 at the door. Ticket holders will receive 1 drink voucher with each ticket. Appetizers will be served.
To purchase tickets and for more information, visit https://www.uc-educate.org/events/party-at-the-cove/
For related posts, visit https://www.universitycitynews.org/category/uc-cluster-schools/
Note: EdUCate! is a nonprofit foundation established in 1993 to provide supplemental funds for all five of the University City Public Schools: Curie Elementary, Doyle Elementary, Spreckels Elementary, Standley Middle, and University City High School.