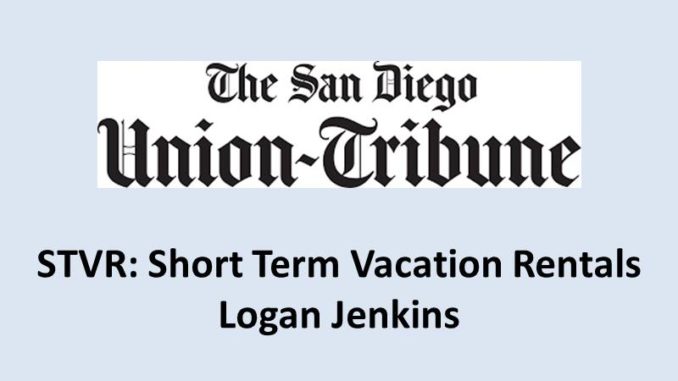 Backyards are among the most fertile theaters for radical political conversions. Just look at me.

For many years, we've lived in the same house in a coastal neighborhood associated with bird guano, roundabouts and small lots. We've noted the outbreak of short-term vacation rentals (STVRs) — and the ensuing blowback — but have viewed the proliferation with nonpartisan detachment.

Our block is a mix of weathered bungalows and remodels. Lots of young families, retirees, dogs. A neighbor or two can go on vacation and rent their home out for a week or two, but no one minds much. Hand-picked guests have blended in without incident.

But then, a couple of weeks ago, without a word of warning, a $110-a-night motel opened next-door.
Read the entire article by Logan Jenkin, San Diego Union Tribune, at http://www.sandiegouniontribune.com/news/columnists/logan-jenkins/sd-me-jenkins-rentals-20180511-story.html
Editor's note: A Short Term Vacation Rental (STVR) plan is reportedly to be announced by Mayor Faulconer's office in July. UCCA urges all to contact City Councilmembers and the Mayor's office for more information and to express thoughts and opinions on the STVR issue.
Mayor Kevin Faulconer, Kevinfaulconer@sandiego.gov
Council President Pro Tem Barbara Bry, District 1 Council Member, barbarabry@sandiego.gov
Lorie Zapf, District 2 Council Member, loriezapf@sandiego.gov
Chris Ward, District 3 Council Member, christopherward@sandiego.gov
Council President Myrtle Cole, District 4 Council Member, myrtlecole@sandiego.gov
Mark Kersey, District 5 Council Member, markkersey@sandiego.gov
Chris Cate, District 6 Council Member, ChrisCate@sandiego.gov
Scott Sherman, District 7 Council member, scottsherman@sandiego.gov
David Alvarez, District 8 Council Member, davidalvarez@sandiego.gov
Georgette Gómez, District 9 Council Member, georgettegomez@sandiego.gov
For the most up-to-date information, visit the City of San Diego website at https://www.sandiego.gov/