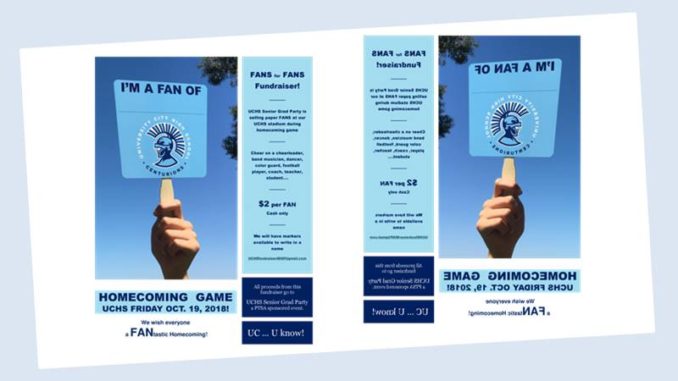 We wish everyone a FANtastic Homecoming! For those of us whose kids are too young or too old for high school, we may not be aware of what's happening at University City High School (UCHS). Well, tonight (Friday, 10/19/2018) is Homecoming for the Centurions of University City HS. It's another Friday Night under the lights at the new and improved UCHS football stadium.

If you're willing and able, I encourage you to come out and see the award winning UCHS Band and the winning UC Centurions football team in action. These are two of the best teams we've had in years!

With our winning football team and the always talented school band, the vibe at the Friday night games is really special. The student body is really into the team and their school. At the last home game, the head football coach took a knee at half-time at the 50-yard-line and proposed to his long-time girl friend. It was a touching moment (captured on KUSi 51 Prep Pigskin Report) which added to everyone's enjoyment of our HUGE win.

The PTSA will be selling $2 fans to the fans arriving for the game against Samuel Morse HS tonight.

Check the KUSI TV Prep Pigskin Report website for video preview of tonight's game at https://www.kusi.com/sports/highschool-football-prep-pigskin-report/

For more information, visit https://uchscenturions.com/

Information courtesy of Michael Alston.
For related posts from UCCA, visit https://www.universitycitynews.org/category/uchs/