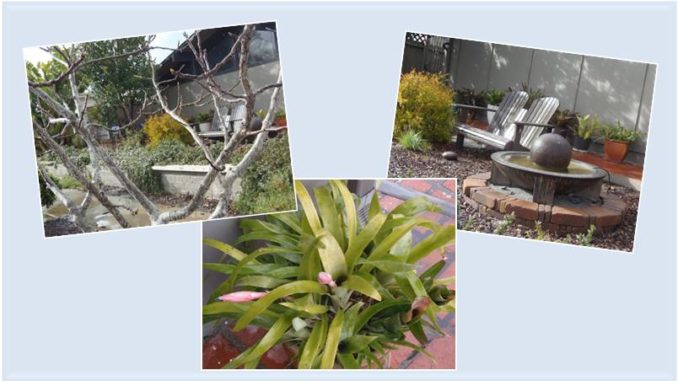 Sunny skies are forecast for the first UC Garden Club meetup on Saturday, February 23, on the 2700 block of Gobat Avenue in University City, from 1:30 to 4 PM. There will be a brief business meeting at 1:30 P.M. Our host will then speak on this magnificent 1/3 acre she created during the last 7 years.
The garden is a landscaped certified Wildlife Habitat, National Wildlife Organization; with native California plants. There are 100 species and 300 to 400 plants. The potted plants may be purchased; included are massive Staghorn ferns, bromeliads, orchids, and much more; all on a beautiful property which backs up to Rose Canyon.
Gobat Avenue is accessible from Stresemann Street south of Governor Drive. Follow the signs on the day of the event to the property just west of Lamas Street. For more information, contact ucgardenclub@gmail.com.
Submitted by president Ginger Steketee and club historian Marilyn Mehr. Photos by Marilyn Mehr.
For related information, visit https://www.universitycitynews.org/uc-garden-club/