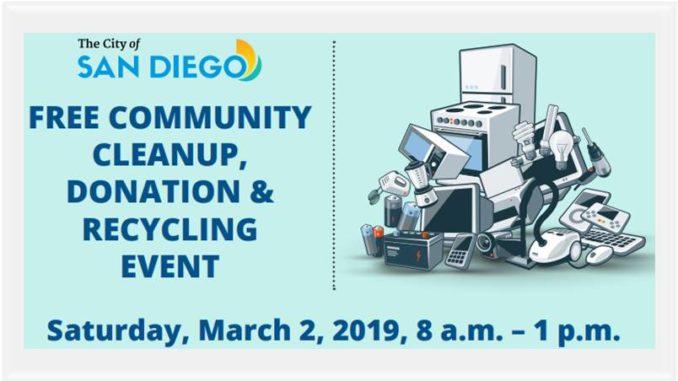 San Diego's Environmental Services Department is sponsoring a free community cleanup, donation and recycling event on Saturday, March 2, 2019, from 8 a.m. – 1 p.m. at the SDCCU Stadium, 9449 Friars Rd., San Diego, CA 92108 (Parking Lot Sections N & P). Open to City of San Diego residents only. Items accepted include electronics, appliances, metals, mattresses, furniture, florescent light bulbs and household batteries. No business or commercial waste will be accepted.
NO TIRES: Call 858-694-7000 for information on how to dispose of tires.
NO HAZARDOUS WASTE: This includes paint, chemicals, pesticides, cleaners, aerosol cans, sharps/lancets, motor oil, propane tanks, gas cylinders, etc. Call 858-694-7000 for disposal options.
NO CONSTRUCTION & DEMOLITION DEBRIS: This includes concrete, painted wood, bricks/blocks, asphalt, porcelain fixtures, etc.
For more information, visit www.RecyclingWorks.com or call 858-694-7000.
Save the Date for University City's community cleanup (leave items at the curb); scheduled for Thursday, June 20, 2019. For more information, visit https://www.sandiego.gov/environmental-services/geninfo/events/cleanup/cleanschedule