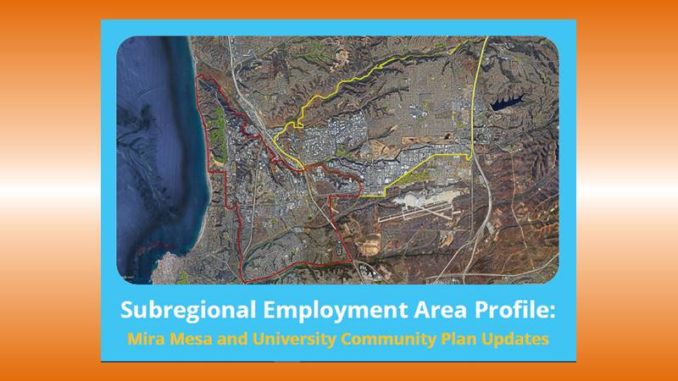 Due to the cross-pollination of various industries working in the innovation economy, the City of San Diego Planning Department is studying the employment areas of Mira Mesa and University Community Plan Areas together.
The City of San Diego is updating the Mira Mesa and University City Community Plans to provide a long-range land use vision for economic prosperity, housing, mobility, and climate action. Figure 1 (below) illustrates the north-central location of the two Community Planning Areas (CPAs). The plan update process is an opportunity for stakeholders to help identify and address key issues, barriers, and opportunities for economic growth and establish a future vision and policy direction to enhance the vibrancy of diverse innovation centers.
During spring and summer 2019, the Planning Department is conducting stakeholder interviews and convening a Forum on Subregional Employment Area (SEA) with business associations, developers, academia, large employers, major property owners, and community members. Keyser Marston Associates has been contracted by the City to conduct a market demand analysis for the plan areas.
The overall purpose of this document is to synthesize existing conditions, trends, challenges and opportunities to:
Share preliminary information on the current dynamics of the largest employment cluster in the region;
Explore land use, employment, transportation, and commuter travel patterns; and
Provide high-level data on trends, challenges, and opportunities to facilitate informed discussion.
The findings from the Subregional Employment Area Profile, stakeholder interviews, and market demand analysis will be presented at the Forum on SEA. The technical studies, stakeholder interviews, and discussions at the forum and the plan update subcommittee meetings will help guide the development of the Economic Prosperity and Land Use elements of the Mira Mesa and University Community Plans.
---
Source: Introduction from the (Working Draft) Subregional Employment Area Profile for Mira Mesa & University Community Plan Updates. Illustrations from the same. This document  provides a summary of significant challenges, opportunities, and trends for the employment centers in Mira Mesa and University CPAs. It is available for review and download at https://www.sandiego.gov/planning/community/cpu/university/subcommittee-university-documents
May Community Plan Update Committee Meetings:
Monday, May 20: The Mira Mesa Community Plan Update Sub-Committee meeting is Monday, May 20, 5:30 – 6:50 PM the Mira Mesa Library, 8405 New Salem St, San Diego, CA 92126. See also https://www.sandiego.gov/planning/community/cpu/miramesa
Tuesday, May 21: The University Community Plan Update Sub-Committee [CPUS] meeting is Tuesday, May 21, 2019 from 6 to 9 PM at a new location; Scripps Health Campus Point C-Annex, 10010 Campus Point Drive, San Diego, CA 92121. See also https://www.sandiego.gov/planning/community/cpu/university/subcommittee-university-documents
Illustrations from (Working Draft) Subregional Employment Area Profile for Mira Mesa & University Community Plan Updates: