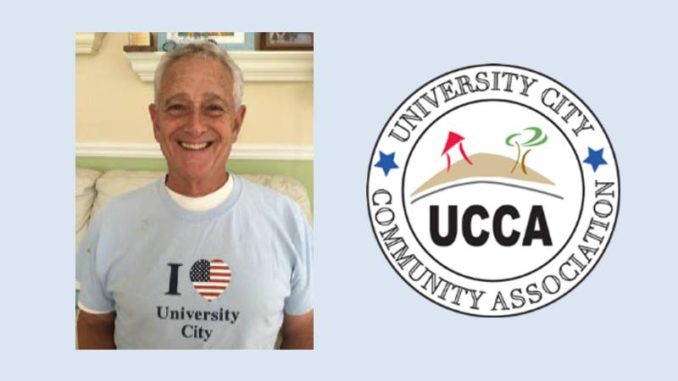 From UCCA President Barry Bernstein: The 2018-19 school year has zoomed by, as promotion/graduation activities will be a focus of many of our families as they prepare for summer. UCCA congratulates those students who will be advancing towards their next level of education or areas of personal endeavor.
The continued off/on rain this Spring has created problems more than just how to keep our street medians looking decent …and filling street potholes, but the mundane dilemma of when to uncover the outdoor furniture and preparing the barbeque for summer outdoor eating…or something as something not usually noticed such as replacing windshield wipers on our cars….they've really been put to the test these past few months.
UCCA will be sponsoring a community, big item cleanup later this month, on June 20 (only for addresses with a 92122 zip); see information on page 8 of the print newsletter for details.
At our June 12 UCCA meeting our invited guests include Aaron Brennan, City Council candidate and Blake Morgan, residential home builder of the new homes on Regents, south of Our Mother of Confidence church (the West End Project). Hope to see you there.
On May 14th UCPG invited Colonel Dockery, the commanding officer at Miramar, MCAS to introduce himself to the community as well as providing a presentation on the training mission at the Base. The Colonel did extend his presentation for questions from the audience and the UCPG Board, however he did NOT accept the request to seek improved and effective communication channels with our residents and in particular with C.A.S.A. (Citizens Advocating Safe Aviation), which is a sub-committee of UCCA. This request was based on the often observable aircraft not adhering to the prescribed Standard Instrument Departure which places our homes, families, and schools in jeopardy. And most certainly impacts the quality of life for all University City residents. [See also open letter from Councilmember Barbara Bry to MCAS Commanding Officer Colonel Charles Dockery at https://www.universitycitynews.org/2019/05/09/councilmember-sends-letter-to-marine-corps-regarding-flights-over-university-city/]
As previously indicated in my May column, I announced the need for the Community Plan update committee to include as part of their land use discussions SAFETY concerns. This would include not only the "Rose Canyon Scenic Cross Over/Emergency Lane" proposal, but also the street/pedestrian safety throughout U.C. to include the dangerous Genesee/Governor intersection, Governor Drive improvements to include safe bicycle lanes and slowing down traffic, ("roundabout" at Mercer/Governor has been suggested), the needed long-term oversight of the dual sewer pipelines which are planned to be built through our community the next 18 months, and as I mention in the paragraph above, to continue to encourage our elected City and County officials to support UCCA/CASA's efforts to meet with MCAS and to keep our community safe.

The Community Plan Update committee requests your response to the online survey recently being distributed. The survey is for all residents, businesses, and those employed in University City. It is very important to take a few minutes to review and rate the featured land-use categories and allows you to also add your particular areas of concerns: (i.e. Miramar Aircraft, Pure-water pipeline, railroad crossover bridge, Governor/Genesee intersection safety, Standley Park's ImagineUC 2020, or any other issue you would like to see addressed by the Plan update committee). Some of you will have already received this survey from the City's planning department. If not, please go the link provided on our website. The survey will be available through June 20. Thank you in advance for your time, interest, and opinion.
Have a great beginning to summer….and plan to have some family fun at the Standley Park 4th of July "Celebration". A schedule of events/activities will be published in our July newsletter, along with a schedule of the always popular summer concert series and as you travel along our main streets look up and see the students from Curie Elementary on the San Diego County Fair banners.
One more thing: our UCCA mailing address has now changed…we have moved our P.O. Box to the U.S. Post Office. Our new address is: 3298 Governor Drive, #22574, San Diego, CA 92122.
On behalf of the UCCA Board I want to thank you for your 2019 membership…as we near our 800 member goal. Remember, University City "is more than just a neighborhood".
---
For related posts, visit https://www.universitycitynews.org/category/presidents-remarks/