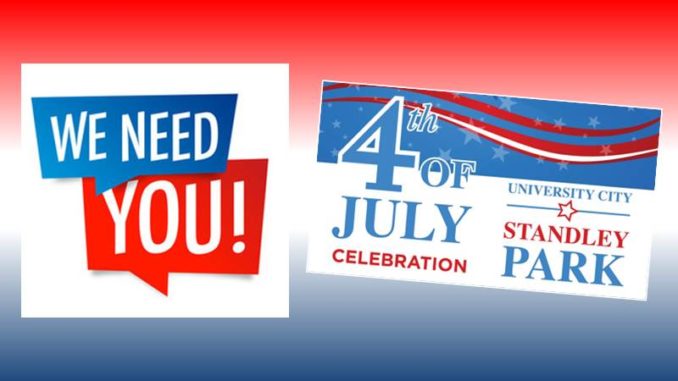 We need you! The UC Celebration is looking for volunteers to work in (approximately) 2 hour segments during the 4th of July Celebration at Standley Park. Families and community groups are welcome to volunteer together. Volunteers can help with set up and take down and everything in between including 5 K registration and race assistants, parking lot attendants, bike and pet parade helpers, kids area assistants, field game assistants, snow play area assistants, beer and wine garden staff (must be 21 years and older) and ticket sales.
Families and community groups are welcome to volunteer together.  Kids 13 and younger may volunteer with a parent; kids 14 and older may volunteer on their own. Do you have approximately 2 hours to give back to our neighborhood? Community service hours are available. You can help to make this be best UC Celebration ever. Please register to volunteer at https://volunteersignup.org/CCXL3
For more information, to register for the 5K race, and to rent a vendor/community booth, visit the UC Celebration page at https://uccelebration.com/
---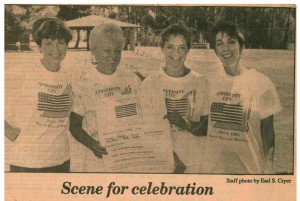 Celebrating 30 years!! Do you and your kids enjoy the family fun of the UC Celebration? Would you like to meet some of your neighbors who are volunteering to make a 30 year UC summer tradition an even bigger success? Do you want to make a difference in our community? Then let's create some memories and Celebrate together. Festivities begin early at Standley Park with a 5 K fun run and end with a concert on the lawn. In between there is a bike and pet parade, book sale, kids activities, car show, beer and wine pavilion, vendor and community group booths and much more. Standley Park is a fun and family friendly venue with playground and large grassy area located at 3585 Governor Drive in University City.
Help make this 30th anniversary Celebration the best ever! Here's how you can help:
Booth Rental – we need groups and small (or large) businesses to be vendors. Food, arts & crafts, clothing, activities, your family, clubs. We need lots of booths to create our Celebration festival atmosphere. Download the booth application on the UC Celebration website at www.uccelebration.com.
Volunteers – we need lots, sign up on the website at www.uccelebration.com.
Sponsors & Donations – gift certificates, themed baskets, vacations, anything you yourself would like to win, we will accept. We also need event sponsors – you'll get special recognition and a free booth! Information at www.uccelebration.com.
It takes a lot of volunteers to pull off the Celebration, so whatever you can do to contribute, please do. Make sure to check out the website for more and updated information – www.uccelebration.com, and like the Facebook event page @UCCelebration. Be there UC!