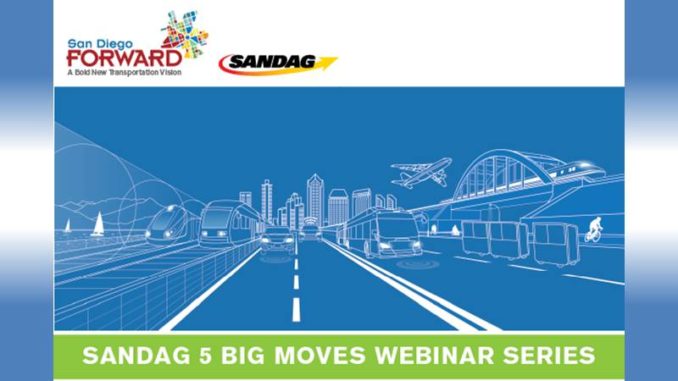 New webinar series: Join SANDAG this summer for a series of 45-minute webinars to learn more about the 5 Big Moves – Complete Corridors, Transit Leap, Mobility Hubs, Flexible Fleets, and Next Operating System (Next OS) – key strategies that will enhance connectivity, increase sustainability, and improve quality of life in the San Diego region. The 5 Big Moves set the framework for the bold new vision for San Diego Forward: The 2021 Regional Plan.
Industry experts will share how the private and public sectors are embracing these innovations across the world to improve the movement of people and goods. Each webinar will conclude with a question and answer session. Register for an upcoming webinar today!
Complete Corridors – June 26 @ 12 p.m. PDT
Transit Leap – July 10 @ 12 p.m. PDT
Mobility Hubs – July 24 @ 12 p.m. PDT
Flexible Fleets – August 7 @ 12 p.m. PDT
Next OS – August 21 @ 12 p.m. PDT
Early completion: Temporary overnight closures of Interstate 5 (I-5) lanes finished ahead of schedule during the early morning hours Tuesday morning, June 25, 2019. The closures allowed crews to remove falsework, the temporary wooden structures used to support the Mid-Coast Trolley bridge during construction, from the recently constructed overcrossing at Voigt Drive and to install falsework south of Nobel Drive for the second overcrossing.
For more information and to register, visit https://mailchi.mp/keepsandiegomoving.com/mid-coast-trolley-project-i5-closures-end-early-6-25-19
For related posts, visit https://www.universitycitynews.org/category/transportation/