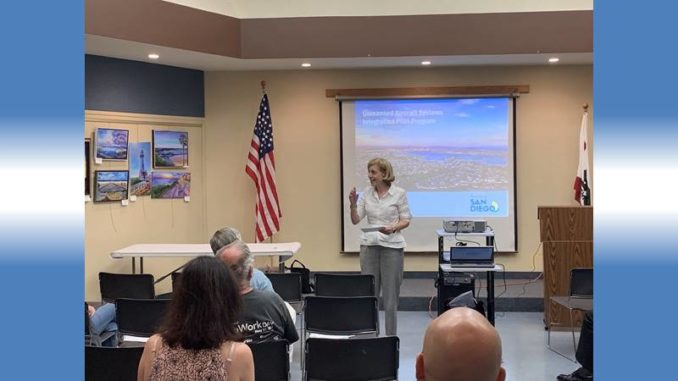 Councilmember Barbara Bry hosted a public workshop on Thursday, July 11, to provide an overview and status update of the City's Unmanned Aircraft Systems (UAS) Integrated Pilot Program (IPP). As she explained through her Twitter account @barbarabryD1, "Cities need to be proactive in regulating new technologies, which is why I was happy to participate in tonight's drone workshop. I joined @ChulaVistaPD‬ and @SDRegionalEDC‬ in working to educate the public on how commercial and police drones may impact our communities." Reference: https://twitter.com/barbarabryd1/status/1149553300934545409?s=20
Katelyn McCauley of San Diego Regional Economic Development Corporation began the presentation by sharing some of its history and provided the following summary in an email:
"The San Diego Integration Pilot Program began as a collaborative effort between the City of San Diego's Office of Homeland Security and San Diego Regional Economic Development Corporation. They began by researching other interested parties in the San Diego region who intended on submitting individual applications. It was believed that a collective approach would garner them more favor during the review process, so both OHS and EDC got to work in convincing partners to join as a collective effort, consolidated the applications, and were selected in part because of the dynamic application they were able to compile. (Along with the uniqueness that San Diego offers as far as airspace, weather to operate, geographical location, etc.)
"The program was led by the Office of Homeland Security, and was viewed under a public safety lens for the past year. However, due to reorganization within the City to consolidate resources, the Office of Homeland Security was absorbed by the San Diego Police Department. SDPD evaluated the program, and while they see value in it, they did not feel that the program aligned with their mission orientation as it stands today. With this, the City of San Diego Economic Development Department felt they had the resources to maintain the program, and the two agencies worked together to ensure that the program would remain in the City, but would be a better fit as an economic development project to expand the scope of the program and ensure longevity of the UAS market in San Diego."
The overall goal of the City's program as it moves forward is economic development by creating an 'economic commercial space within our controlled airspace'. The program is now managed in collaboration with the City's economic development department.
In response to a question about FAA air traffic control, Katelyn McCauley related that the goal of the FAA is to integrate drone flights with air traffic control and that NASA is working on this piece. According to the presenter, drone operators originally thought that the FAA would merely 'give away' the 0-400 feet airspace to drone operators. But now the FAA wants full integration and sharing of airspace, just as the military flies both manned and un-manned aircraft in the same airspace.
The following information was provided to attendees in the form of a Fact Sheet available at www.sandiego.gov/uas
Integration Pilot Program
The City of San Diego was selected by the U.S. Department of Transportation to conduct testing as part of the Unmanned Aircraft Systems (UAS) Integration Pilot Program (IPP). During the three-year program, the City of San Diego will be working with several public and private sector partners to test the feasibility of advanced UAS operations, including unmanned traffic management, night operations, flight over people, and flight beyond the visual line of sight.
Purpose
UAS operations have the potential to bring lifesaving technology to solve complex problems, improve the efficiency of existing businesses and create whole new verticals. As a participant in this program the region has an opportunity to be an earlier adopter of these new technological advances ensuring that regional businesses and citizens gain access to new services before other parts of the country.
Operations and Missions
With an international airport, multiple municipal airports, U.S. Navy airspace, U.S. Marine Corps airspace, and the U.S. Coast Guard, San Diego is one of the most complex airspaces in the nation. San Diego's role as a national leader in technology, coupled with complex airspace and weather that allows for year-round testing, makes our region the ideal place for UAS testing.
Testing will include two categories of concepts of operation (ConOps).
ConOps 1: International Transportation and Safety. The City of San Diego seeks to facilitate a competitive economy and safe community through the efficient use of public services with advanced technology. Missions include:

International Commerce: San Diego will use various technologies for unmanned traffic management to determine the feasibility of conducting cross-border commerce via UAS.
Public Safety: UAS will be used to assist first responders by providing near-real time video feeds in response to priority emergency calls. First responders will then be able to determine if additional resources are needed to respond, resulting in increased efficiency.
Smart City and Autonomous Vehicle Interoperability: San Diego will be testing the ability of UAS to communicate with existing intelligent infrastructure to develop best practices for integration of autonomous technology into a smart city.

ConOps 2: Package Delivery. The developing UAS industry can be used to expedite parcel delivery, which could result in reduced shipping costs, more efficient healthcare specimen processing, and increase food options citywide. Missions include:

Food Delivery: San Diego will test the feasibility of transporting food and beverages, utilizing technology to advance unmanned traffic management, as well as detect and avoid technology.
Medical Specimen Transport: Teaming with UCSD Health, San Diego will test the feasibility of transporting specimens to a lab in order to support the healthcare provider's ability to quickly diagnose and treat patients.
Additional Information
Airspaces for operations include area along the Tijuana-San Diego border, Sorrento Valley and UC San Diego, Mission Valley, Pacific Beach and Mission Bay, and Downtown San Diego. There is no increase in personnel costs to the City for this testing, and all partners are providing their own personnel and technology. For more information on the UAS IPP, please visit: www.sandiego.gov/uas
See also https://www.universitycitynews.org/2019/07/05/public-workshop-uas-drones-and-you-navigating-innovation-thursday-july-11/