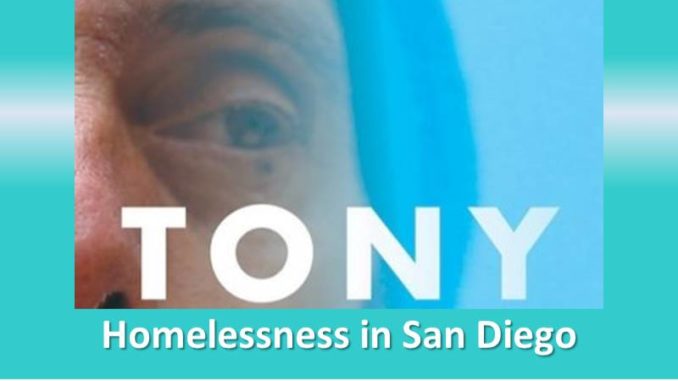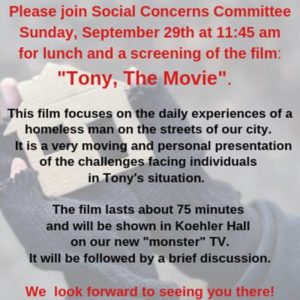 The Social Concerns Committee of University City United Church (UCUC) plans a two-part series on homelessness to provide information about the current status of homelessness in San Diego and to consider additional ways the community might become involved. In September, UCUC will host a special viewing of the documentary film, "Tony, the Movie." In October, UCUC will host a presentation and discussion led by the Chair of the San Diego County Regional Task Force on the Homeless.
Sunday, September 29, 11:45 AM (immediately after church): Lunch and a screening of the film "Tony, the Movie". This documentary film focuses on the day-to-day experiences of a homeless man on the streets of San Diego and will be shown in the church's Koehler Hall. It is a moving and personal presentation of the challenges facing individuals in Tony's situation. The film lasts about 75 minutes and will be followed by a brief discussion of participants' reactions.
Sunday, October 20, 11:45 AM (immediately after church): Lunch and remarks from City Councilmember Chris Ward. Councilmember Ward is vice chair of the committee on land use and housing and chair of the San Diego County regional task force on the homeless. He will discuss current city and county efforts to address homelessness and review available resources. The session will conclude with a group discussion of reactions of the audience and an exploration of possible additional efforts to address homelessness in the immediate neighborhood and city.
UCUC is located at 2877 Governor Drive (at Stresemann). The public is welcome; the events are free of charge; donations welcome. Call 858-453–3444 or visit www.UCUC.org for more information.