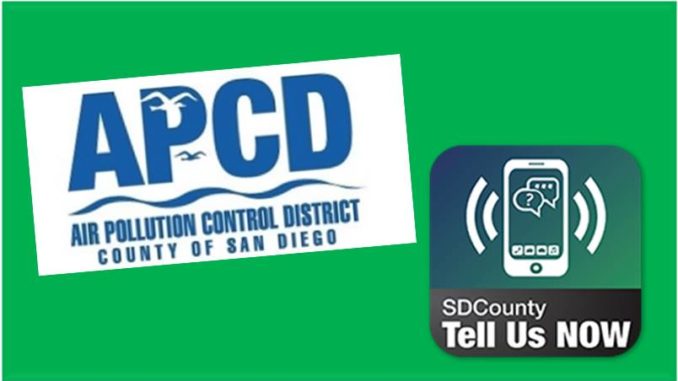 UCCA is getting multiple inquiries about noxious odors in the area and along the coast. The San Diego County Air Pollution Control District is urging all to call with information about location and type of odor; please call 858-586-2650.
The SD APCD monitors and investigates air quality complaints about the emissions of air contaminants – including smoke, dust and odors – which have the potential to cause injury, nuisance or annoyance. The APCD commonly investigates improper asbestos removal, gasoline dispenser nozzle problem, unpermitted equipment and operation, and illegal burning in addition to smoke, dust, and odors.
The APCD has odor mitigation systems in place. Every time you smell it – report it. Include your location, day, time, and description of odor. The sooner you report it – the better – as sometimes they will send out a representative to investigate.
Complaint information is forwarded to a District inspector as soon as possible for investigation and resolution. However, complaints received outside of normal business hours (M-F, 8 AM-5 PM) may be investigated the next business day. If a business is in violation of any air quality rules or regulations, the District may issue a Notice of Violation. If a Notice of Violation is issued, the business must take action to correct the violation and may pay a monetary penalty to the District.
When an air quality problem is observed at a stationary source, call 858-586-2650 or email apcdcomp@sdcounty.ca.gov. You can also submit complaints using the Tell Us Now app (available for download for mobile devices).
To report a smoking car, email airinfo@sdcounty.ca.gov. For more information and to download the Tell Us Now app, visit the San Diego County website at www.sandiegocounty.gov and search on Air Pollution Control District.