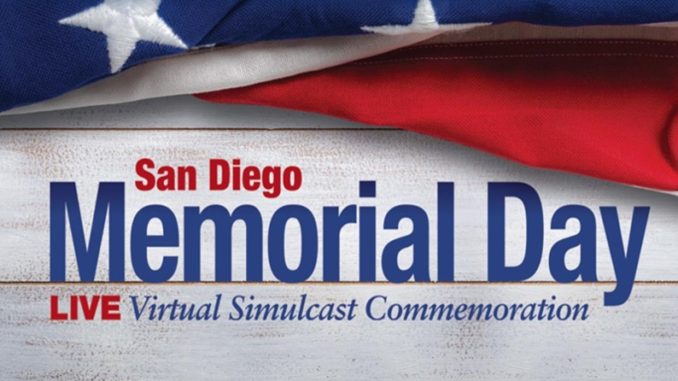 USS Midway Museum, Mt. Soledad National Memorial & Fort Rosecrans and Miramar National Cemetery Foundations to host Memorial Day Online Simulcast Commemoration.
As announced in a statement today by representatives from the USS Midway Museum, Memorial Day commemorations in San Diego are going virtual in 2020. With COVID-19 preventing large gatherings, four of San Diego's most iconic locations are collaborating to hold the first online live streaming simulcast tribute on May 25 to honor fallen military heroes and salute today's frontline heroes.
The Fort Rosecrans and Miramar National Cemetery Support Foundations, the Mt. Soledad National Veterans Memorial and the USS Midway will each hold approximately 15-minute tributes that will be seamlessly streamed live on Memorial Day, May 25, 2020, from 9 AM to 10 AM at www.sandiegomemorialdaylive.com.
This year's online commemoration will be hosted by Marc Bailey who is National University's Director of Public Safety Outreach, a reserve El Cajon police officer, and former San Diego news anchor. The hour-long virtual tribute will include inspiring remarks from local civic and military officials, uplifting Memorial Day video messages from state and national leaders, bagpipe and bugler performances, wreath laying and missing-man flyby. Event participants will adhere to social distancing requirements. No public spectators will be permitted at any of the commemoration locations according to information provided by the USS Midway Museum representative.
More information is available now at www.sandiegomemorialdaylive.com.
---
For related posts, visit https://www.universitycitynews.org/category/miramar/