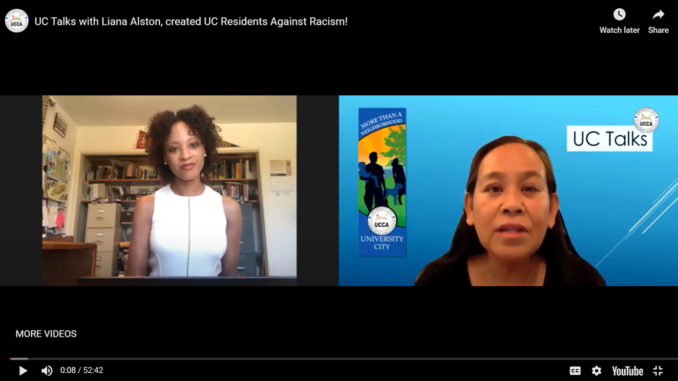 Liana Alston grew up in University City. As a black woman, after the killing of George Floyd, she felt compelled to share a post on Nextdoor entitled "From not-racist to anti-racist in 2020: some tools" which garnered lots of positive feedback. From there, she was encouraged to start a Nextdoor group, which Liana called "UC Residents Against Racism!" Many University City residents have joined the group and been motivated to act. In this episode, UC Talks host Jemma Samala talks to Liana about growing up in University City, a predominantly white neighborhood, educating ourselves about the Black Lives Matter movement, and how, as an individual, you can find sources to help take your feelings about social injustice to action.
---
UC Talks is a hyper-local podcast that features conversations, interviews, and news of University City. UC Talks also includes readings of the University City newsletter. It's managed by University City Community Association (UCCA) and made possible, in part, by a generous Community Enhancement Program grant from the County Board of Supervisors. Our podcast host is newsletter editor Jemma Samala.
No special software is needed to listen; just click on the link, adjust the volume on your device, and click the play button. 
To submit an idea for an upcoming UC Talks podcast, please use the 'contact us' link at https://www.universitycitynews.org/contact-us-or-volunteer-in-uc/