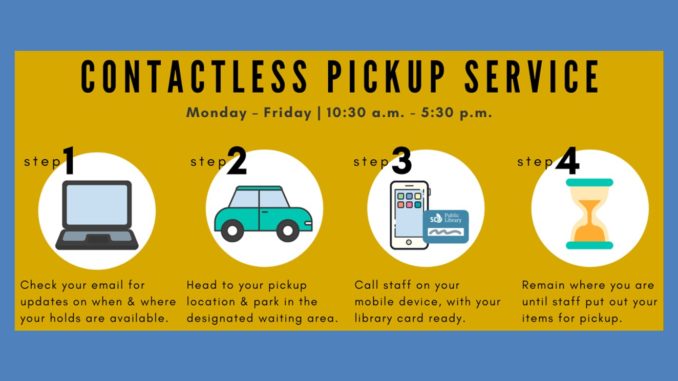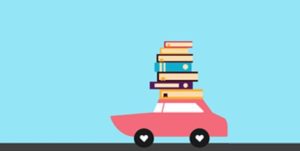 Check out these updates from Library Branch Manager Melissa Martin:
Contactless Pickup Service: As of Monday, August 24, you can pick up your holds at your library on Governor Dr. Check your hold pickup notice email or library account to verify the pickup location. Call the library at 858-552-1655 to transfer any available holds at Carmel Valley Library or North University Community Library to the University Community Library. Holds that are not yet filled will be sent automatically to your home branch or the branch you choose when you place the hold.
Pickup Service hours at University Community are Monday through Friday — 10:30 a.m. – 5:30 p.m. You do not need to call ahead or book an appointment. Please park your car in the library parking lot then call to pick up your holds or return materials to the book drop. Have your library card number ready to read over the phone before calling. Staff will retrieve your items, check them out to your account, and let you know that they are coming out to place your materials on the Pickup Service table.
STAY IN YOUR CAR or DESIGNATED WAITING AREA and on the phone until one of our staff members place the items on the Pickup Service table, calls out your last name and goes back into the building. We've missed our library patrons and can't wait to see you (from a safe distance wearing a mask)! For more information, visit https://www.sandiego.gov/public-library/pickup-service
Summer Reading Program: This year's program ended August 31 and prizes are now available for pickup Monday through Friday 10:30 a.m. to 5:30 p.m. at any of our contactless pickup service locations. Prizes will be distributed through September 30, 2020 (while supplies last).  Prizes include food and museum coupons and a coupon for a free book from the book sale when we reopen. Museum pass expiration dates have been extended and will be honored through May 1, 2021.
We Did It! Congratulations and well-done! We met our goal of reading 200,000 books and we did it by the middle of August, well ahead of the deadline! All the books that you read (children and adults) and logged as part of the Summer Reading Program counted towards the Read-A-Thon goal. At the time the newsletter went to print, over 218,371 books were read. We wish to thank the San Diego Library Foundation and Intuit who will donate $10,000 to support library youth programming.
More summer fun! The Stay-In Summer Reading Club is a Facebook group where Library Staff and partnering organizations offer daily virtual programs for all ages including: read alouds, crafts & DIY, booktalks, and more! Check here to see the daily schedule. Join the Stay-In Summer Reading Club Facebook group to get access to our growing collection of videos and resources, including curated reading lists, places to find good reading material online and activities and worksheets designed to get little minds thinking.
LibraryNExT: Explore 3-D Modeling and Printing with Blender (virtual program). Sign up today for this virtual STEM program sponsored by UC San Diego Extension and the San Diego Public Library. Students will learn about architecture, social responsibility and community as they envision and design their own tiny houses. They will use clay and found materials to build scale models of their houses. Students will practice math skills as they scale their models and workforce skills as they complete their projects within time constraints. To refine their communication skills, students will present their tiny houses to the class. The course offers an inspiring introduction for students interested in architecture and sustainable design. More information and registration available on the Library's website at https://www.sandiego.gov/public-library
Did You Know? Book reviews from your favorite library employees are published twice a month in the Sunday Books section of the San Diego Union-Tribune. Look for Recommended Reads at the bottom of the section to see what staff are reading and recommending.
Stay Connected: For the most up-to-date information from the University Community Branch Library, follow us on Facebook at https://www.facebook.com/universitycommunitylibrary
---
For related posts from UCCA, visit https://www.universitycitynews.org/category/library/