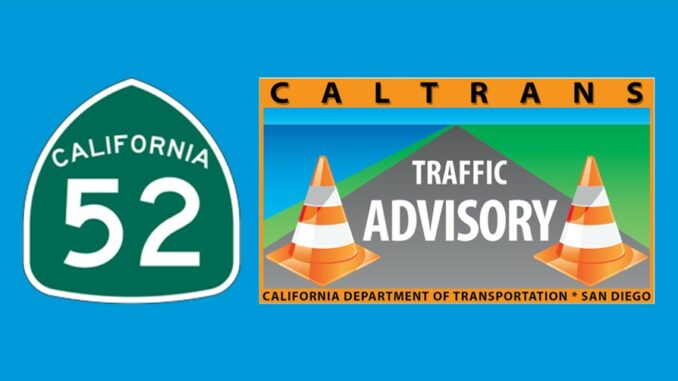 From Caltrans District 11 – San Diego and Imperial Counties: Construction crews repairing the dips on westbound and eastbound State Route 52 (SR-52) will close the eastbound Convoy Street on-ramp continuously for seven days beginning Saturday at 4:30 p.m. The on-ramp will reopen Saturday, September 26 at 1 p.m. This closure will not affect access to the landfill.
Motorists will be detoured to the westbound SR-52 Convoy Street on-ramp, continue west to the Genesee Avenue loop off-ramp, then left to the eastbound SR-52 Genesee Avenue on-ramp.
Crews began in late August on a $16.5 million project to flatten the pavement between State Route 163 and Interstate 805. Crews are working seven nights a week to complete the project by early November. The seven-day eastbound Convoy Street on-ramp closure is needed as crews begin working on the right lanes of the highway. By keeping the on-ramp continuously closed for seven days, crews will gain an extra two and half hours of work time each night as heavy-duty construction equipment is moved from the left side of the highway to the right.
At least one lane will remain during construction hours between 4:30 p.m. and 5 a.m. At no time will all highway lanes close.
Nearly 30 highway workers are working this area each night, most on foot, to drill more than 4,000 holes into the pavement, then filling then the hole with a slurry mix to flatten the pavement. Motorists are advised to please slow down and obey the speed reduction signs posted on both the eastbound and westbound lanes of the highway.
---
For more information, visit https://dot.ca.gov/caltrans-near-me/district-11/news/20200917-d11news-52dips
For related posts from UCCA, visit https://www.universitycitynews.org/category/transportation/