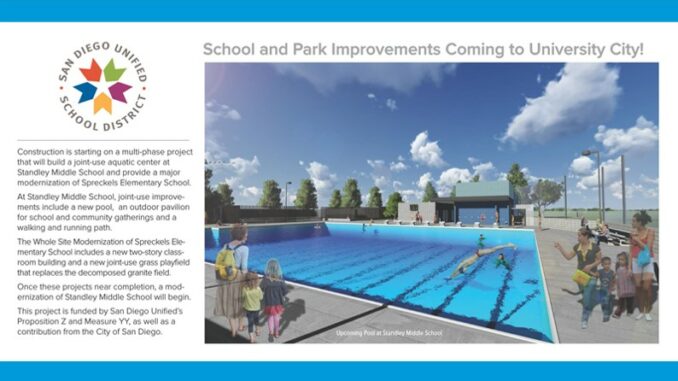 From San Diego Unified School District: Construction is starting on a multi-phase project that will build a joint-use aquatic center at Standley Middle School and provide a major modernization of Spreckels Elementary School. At Standley Middle School, joint-use improvements include a new pool, an outdoor pavilion for school and community gatherings and a walking and running path. The Whole Site Modernization of Spreckels Elementary School includes a new two-story classroom building and a new joint-use grass playfield that replaces the decomposed granite field. Once these projects near completion, a modernization of Standley Middle School will begin. This project is funded by San Diego Unified's Proposition Z and Measure YY, as well as a contribution from the City of San Diego.
Spreckels Elementary Magnet and Standley Middle School put students on College-to-Career pathways by providing a diverse learning environment, with Spanish enrichment courses at Spreckels Elementary and an introduction to coding course and a medical detectives curriculum at Standley Middle that gives students the opportunity to explore mysteries in biomedical sciences.
Joint-use improvements at Standley Middle School include a joint-use aquatic center, pool amenities building housing outdoor showers, changing rooms, restrooms, and support spaces.
Renovations to Spreckels Elementary School include construction of a new student pick-up/drop-off area and additional off-street parking, creation of a secure and controlled visitor entry point, and major upgrades to the existing classroom, multi-purpose, and administration buildings.
The new field at Spreckels Elementary includes a walking/running path and new hard court play areas.
For more project details, please visit http://fpcprojects.sandi.net or contact Project Manager Lisa Barnes at lbarnes1@sandi.net.
---
View and download the PDF version of the SDUSD community mailer at Standley Spreckels Postcard Sept 2020
For related posts from UCCA, visit https://www.universitycitynews.org/category/imagine-uc-2020/