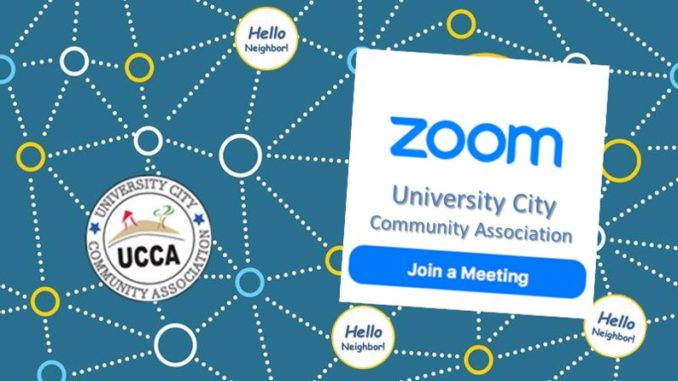 University City Community Association will hold its November 2020 general meeting via ZOOM on Wednesday, November 11, starting at 6:00 PM.  This is a public meeting. We expect an update from Officer Bognuda related to the October assault on Rabbi Halevy; an update on the Pure Water settlement and medians; the November 14 Model 4 Ford Club parade; the December 11/12 Holiday Celebration, the Fire Safe Council, and the Ahearn Realty Pie Give-away. We will have updates from legislative and community leaders. If you have an agenda item to suggest or you would like to speak during Public Comment, please contact us by email at UniversityCityNews@gmail.com or visit our Contact Us page at https://www.universitycitynews.org/contact-us-or-volunteer-in-uc/.
Please join this Zoom Meeting as early as 5:55 PM on November 11, 2020:
Topic: UCCA November Zoom Meeting
Time: Nov 11, 2020 06:00 PM Pacific Time (US and Canada)
Join Zoom Meeting: https://us02web.zoom.us/j/81705841972
Meeting ID: 817 0584 1972
One tap mobile: +14086380968,,81705841972
        UCCA A G E N D A :   (TENTATIVE) FOR NOVEMBER 11, 2020
        6:00- WELCOME, MEETING CALLED TO ORDER
                 PRESIDENT'S COMMENTS
        6:05- APPROVAL OF OCTOBER MINUTES (VOTE)
                  APPROVAL OF 
AGENDA
 (VOTE)
        6:10- COUNCIL MEMBER BARBARA BRY
        6;15- SDPD OFFICER BOGNUDA-UPDATE ON
                 THE OCTOBER ASSAULT ON RABBI HALEVY
        6:20- TREASURER'S REPORT-ELECTRONICALLY-VOTE
                  2021 MEMBERSHIP DRIVE- HALLIE
        6;25- PUBLIC FORUM: SPEAKERS HAVE 3 MINUTES
                    UCCF-RUTH DESANTIS- MEDIANS/"PURE WATER'
                    NOV. 14 PARADE OF "MODEL A"-AUTOS-DIANE
                    DEC. 11/12- NEW DEC. HOLIDAY CELEBRATION-DARLENE
                    FIRE SAFE COUNCIL UPDATE-DIANE
                    PIE GIVEAWAY-NOV. 24- CLAUDIA CENCELLI
        6:35- LEGISLATIVE/UCSD REPRESENTATIVES
        6:50- UCPG REPORT- CHAIR CHRIS NIELSEN
        6:55- SAN DIEGO COUNTY "GRANTS"/BANNER UPDATES-DIANE
        7:00- COMMITTEE REPORTS….
        7:15- ADJOURNMENT…NO SCHEDULED DEC. MEETING
                *HAPPY THANKSGIVING, AND HAVE A WONDERFUL
                DECEMBER HOLIDAY SEASON……~BARRY