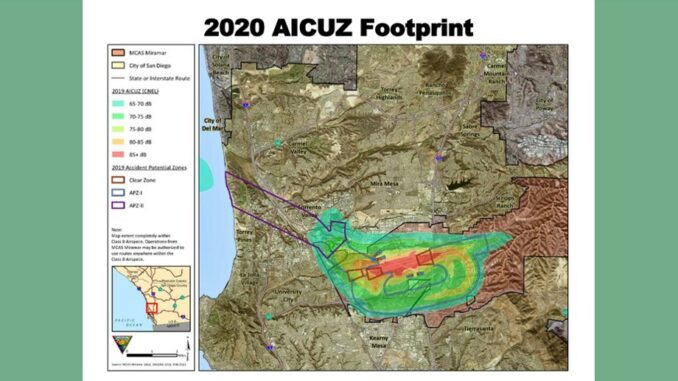 From the MCAS Miramar Community Plans and Liaison Office: Marine Corps Air Station (MCAS) Miramar has publicly released the 2020 Air Installations Compatible Use Zones (AICUZ) Update, which informs the local governments and communities about land uses that may be incompatible with military air operations from a noise or safety standpoint. 
The 2020 Update was required in order to incorporate data reflecting the arrival of the MV-22 Osprey (2010) and the F-35 Lightning (2020 and ongoing) since the 2005 Update was prepared.  Environmental impacts associated with these aircraft basing decisions were analyzed in Environmental Impact Statements completed in 2009 (MV-22) and 2010 (F-35), as well as a Continuing Environmental Review Statement completed in 2018.
The AICUZ does not propose any new actions or projects for MCAS Miramar; rather, it provides land use recommendations for future development based on safety and noise criteria.  The AICUZ Footprint depicts the Accident Potential Zones (APZs) and the noise contours where land use recommendations are provided.
APZs are established below flight tracks where 5,000 operations annually occur.  The 2020 Update re-validated the APZ's from the 2005 Update, and no major changes were made.  Flights in FAA airspace outside of the APZs are not prohibited or inherently unsafe. The AICUZ is not an aviation document and does not prescribe or control where operations may occur.  It is a land use planning document, providing land use recommendations for local governments based on where most operations are expected to occur.
The State of California uses the Community Noise Equivalent Level (CNEL) as the metric for evaluating noise impacts, measuring the weighted average of noise over a 24-hour period.  The CNEL noise contours remain mostly the same in the 2020 Update, however the 65+ CNEL noise contours actually contracted somewhat in a few areas.
California law requires that the local Airport Land Use Compatibility Plan (ALUCP) be consistent with the AICUZ for a military airport.  The San Diego County Regional Airport Authority incorporated the 2005 AICUZ Update into its 2008 ALUCP, which the City of San Diego adopted in 2011.  Based on the very minor differences between the 2005 and 2020 AICUZ Updates, MCAS Miramar believes the 2008 ALUCP remains consistent with the latest AICUZ Update.
For any questions about the AICUZ or land use development near MCAS Miramar, please contact the Community Plans and Liaison Office at (858) 307-6603.
---
For related posts, visit https://www.universitycitynews.org/category/miramar/
Illustration below is from the MCAS Miramar 2020 AICUZ Update, Figure ES-3 – MCAS Miramar AICUZ 2020 Footprint.