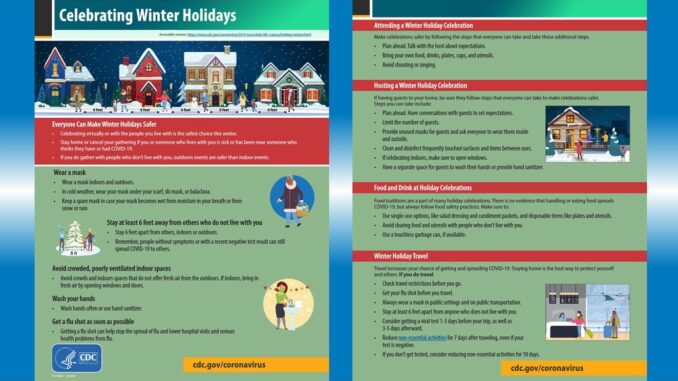 The Winter Holidays are in full swing and the pandemic continues to be on everyone's mind. Although we look forward to celebrating with friends and family, this year may look quite different for some with the new reality of COVID restrictions, smaller gatherings, reduced travel plans and online events. The volunteers at UCCA wish you a safe and healthy season. And we look forward to the day that we can all get together in person. 
From the Centers for Disease Control: The safest way to celebrate winter holidays is at home with the people who live with you. Travel and gatherings with family and friends who do not live with you can increase your chances of getting or spreading COVID-19 or the flu. In this post, learn what the CDC recommends this year to Everyone Can Make Winter Holiday Celebrations Safer. To learn what the CDC recommends for Holiday Travel, please visit their website at https://www.cdc.gov/coronavirus/2019-ncov/daily-life-coping/holidays/winter.html
Everyone Can Make Winter Holiday Celebrations Safer: Celebrating virtually or with the people you live with is the safest choice this winter. If you do gather with people who don't live with you, gatherings and activities held outdoors are safer than indoor gatherings.
Wear a mask
Wear a mask with two or more layers to stop the spread of COVID-19 to protect others and yourself.
Wear your mask over your nose and mouth, secure it under your chin, and make sure it fits snugly against the sides of your face.
Wear a mask indoors and outdoors.
In cold weather, wear your mask under your scarf, ski mask, or balaclava.
Keep a spare mask in case your mask becomes wet from moisture in your breath or from snow or rain.
Stay at least 6 feet away from others who do not live with you
Indoors or outdoors, you are more likely to get or spread COVID-19 when you are in close contact with others for a total of 15 minutes or more over a 24-hour period.
Remember that people without symptoms or with a recent negative test result can still spread COVID-19 to others.
Avoid crowded, poorly ventilated indoor spaces
As much as possible, avoid crowds and indoors spaces that do not offer fresh air from the outdoors. If indoors, bring in fresh air by opening windows and doors, if possible.
Wash your hands
Wash hands often with soap and water for at least 20 seconds, especially after you have been in a public place, after blowing your nose, coughing, or sneezing and before eating.
Make sure to dry your hands completely using a clean towel or by air drying.
If soap and water are not readily available, use a hand sanitizer that contains at least 60% alcohol.
Avoid touching your mask, eyes, nose, and mouth.
Get a flu shot as soon as possible
The flu shot can help protect you and your family, friends, and community from getting and spreading flu.
By getting a flu shot, you can also help lower hospital visits and serious health problems from flu.
To learn what the CDC recommends for Holiday Travel, please visit their website at https://www.cdc.gov/coronavirus/2019-ncov/daily-life-coping/holidays/winter.html