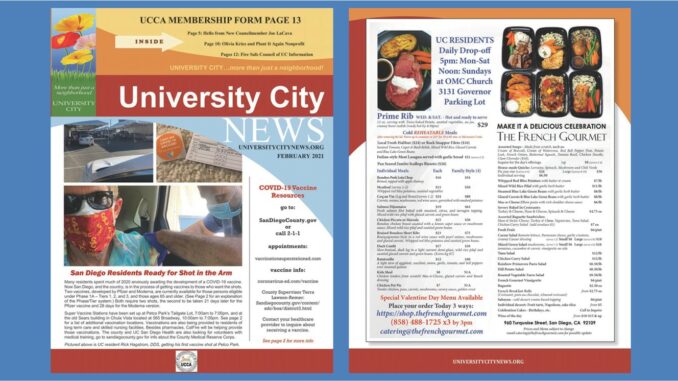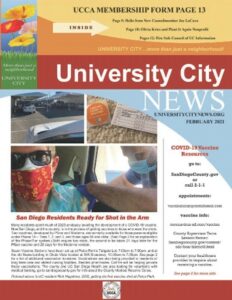 Happy New Year! UCCA's volunteers and advertisers are proud to bring you the February 2021 University City News. This issue is full of neighborhood news and events and information about local businesses. Please continue to support our local businesses as COVID-19 restrictions begin to ease. A special thanks to all our community contributors and advertisers. Without them, our volunteers would not be able to produce our hyper-local print newsletter.
Due to the expected rain this weekend, UCCA has asked its volunteers to delay distribution until the rain event is over and we have dry skies again. We make this request for the health and safety of all. Meanwhile, please take a look at the PDF version of the newsletter. Have a great month.
---
From UCCA President Barry Bernstein: 2021 is here…so much has happened in the previous two months it is difficult to decide on which topic to comment. Some are obvious. At this writing, the COVID 19 virus is still running rampant, with the hope that the soon arriving vaccine immunizations will provide light at the end of this nearly one-year dark tunnel. President Biden and Vice-president Harris have made this health issue their number one priority because other important matters depend on winning the COVIDbattle.
Our children and their teachers need to be safely back in school. There needs to be support for our businesses/economy that has been so drastically affected. Our government needs to provide financial support for the many millions of families in need get them through these very difficult times.
Americans witnessed the very disturbing events that took place earlier this year at our country's Capitol, so finding ways to "heal " our country's great political differences must be addressed so that we can move forward on the issues of social injustice, climate change, and immigration. The costs in dollars to do these things may be great, but none greater than the cost if we don't.
University City Construction Update: Major improvements at the Standley Park, ("Imagine UC 2020), the joint-use aquatic center and pavilion, are moving full-steam ahead as are the plans for both the Curie joint-use grass field/track and the planned two-year Costa Verde Mall renovation.
Our UCPG Board representatives will be monitoring these projects as well as the "Pure- Water" raw sewage pipeline project. The building of which has been experiencing various sorts of delays/legal issues and the exact date for beginning construction this year on Genesee/Nobel and Town Center Drive has yet to be announced. We will continue to provide updates as appropriate.
UCCA will be continuing to hold our meetings, (via ZOOM), at 6:00pm on the second Wednesday of the month. Our next meeting is Wednesday, February 10. I am hopeful that we will be able to resume our in-person meetings by late Spring. For those who may have received the vaccine, or soon will, please continue to wear masks, observe the recommended social distancing, and the washing of hands until we get some sort of "all-clear" from our City/County health experts.
Stay well, stay safe. Remember University City is "more than just a neighborhood". JOIN UCCA ! Stay well, stay safe, Barry