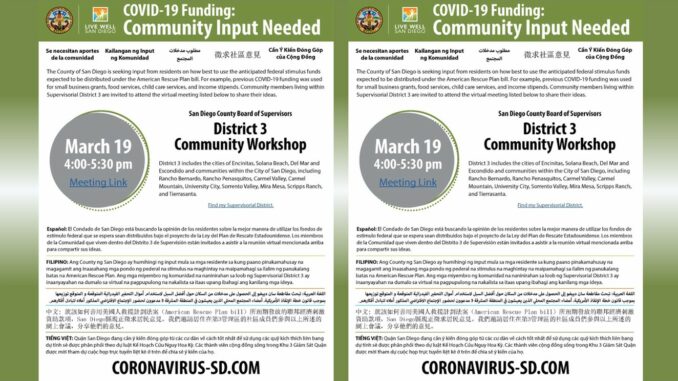 From the Office of County Supervisor Supervisor Lawson-Remer, District 3 Workshop, re COVID-19 Funding: Our office is seeking input from residents on how best to use the anticipated federal stimulus funds expected to be distributed under the American Rescue Plan bill.
As the County awaits federal stimulus funds to assist with COVID-19 relief, I want to hear from you. What should the County make a priority for the funding that is coming from the American Rescue Plan? Small business grants, food services, child care services, rent relief, or something else?
Join me at this virtual meeting for a community discussion. Everyone in San Diego County Supervisorial District 3 is invited to attend.
View and download the PDF invite at: COVID-19-funding-workshops-V8_D3 (1)
For more information, visit https://www.sandiegocounty.gov/content/sdc/bos/district3.html
---
For related posts from UCCA, visit https://www.universitycitynews.org/category/district-3/