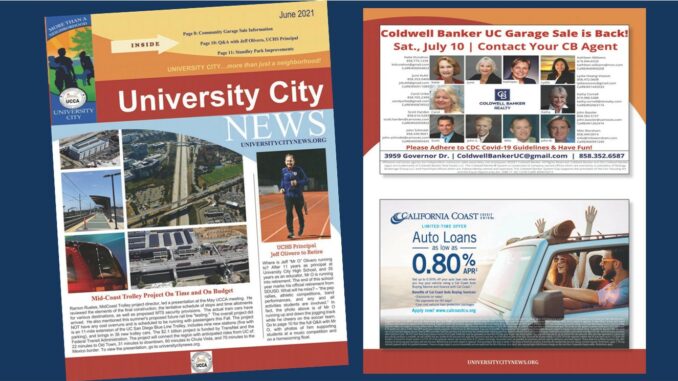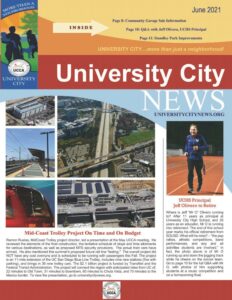 Hello University City! Home delivery of the June 2021 print University City News will begin this weekend. Print copies are currently available at the Recreation Center, the U City Coin Wash Laundromat, and the Community Library on Governor Drive. This month's back cover advertisers are Coldwell Banker University City Realtors and California Coast Credit Union.  Thanks to all our community contributors and to our advertisers and to our delivery volunteers … you are the neighbors and friends who make the print newsletter possible. Let's support our local businesses. UCCA urges all members to refer to the advertising section our of print newsletter for current promotions from our local advertisers. The print newsletter is available as a PDF at https://www.universitycitynews.org/ucca-newsletter-archives/
---
The June 2021 issue is packed with information. The cover stories feature both the Mid-Coast Trolley (nearing completion) and the retirement of UCHS Principal Jeff Olivero (this is Mr. O's last year).  
Inside, you will find information from UCCA's president, the planning group, the city attorney, neighborhood watch, and councilmember Joe LaCava. As always, we feature recaps of many community meetings. You'll also find many tips on how to make your home more fire resistant.
Despite the library being closed to the public, they offer many free programs including the "Reading Colors Your World" summer reading program, a Seed Library, and Matchbook with personalized recommendations just for you.
There's a movie night at Marcy Park, an Olympic style sports competition for first responders, and the firefighter boot drive … all taking place in June. Summer school also gets underway for grades TK through high school. 
Save the date 1: Don't miss the Wednesday, June 9, UCCA meeting when our special guest will provide an update on the Pure Water (toilet to tap) pipelines which will soon to be under construction on Genesee Avenue.
Save the date 2: Get ready for the July 10 community garage sale sponsored by Coldwell Banker Realty in University City.
Read these news items and much more in the June 2021 University City News.