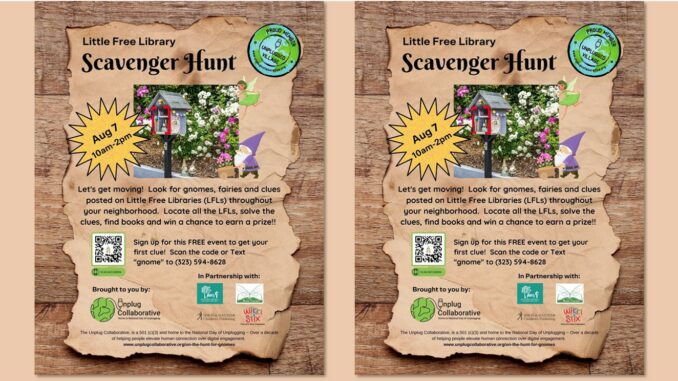 From Jemma Samala: UC's Little Free Library Scavenger Hunt – this Saturday! UC's community of Little Free Libraries are getting together to offer a Scavenger Hunt starting Saturday, August 7, 2021. The Scavenger Hunt is in coordination with the folks at the Unplug Collaborative to promote the Global Day of Unplugging. So unplug, take a book to read, and enjoy the scavenger hunt. Some stops will have special giveaways.
The first stop will be the Little Free Library on Arnoldson – 2851 Arnoldson Ave – where bananas will be given away (while supplies last) – because Saturday is also Banana Split Day at Standley Park, starting at 2:00pm. But it's BYOB – bring your own banana, so we will have bananas for you. Hope to see you Saturday!
P.S. If you can't make it on Saturday, no worries … you can still participate. The clues will be up at 2851 Arnoldson Ave for one week.