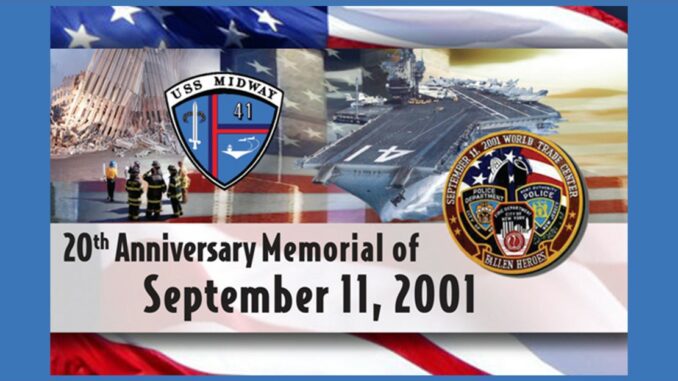 From the USS Midway Museum: On this twentieth anniversary of the terrorist attacks at the World Trade Center, the FDNY Retirees of San Diego, along with the USS Midway Museum, National City FD and The Wounded Warrior Project will pay tribute and honor our fallen heroes and keep our promise to "NEVER FORGET".
Tribute to fallen heroes at 2:30 p.m. Saturday on the flight deck of the USS Midway Museum, Navy Pier, 910 N. Harbor Drive. Presentation of Colors by Honor Guards, pipes and drums, national anthem, reading of first responder names and Tolling of the Bells along with emergency helicopter flyover, United States Navy Band, Twenty-one Gun Salute, taps and harbor police fireboat water display. Parking is not free. Car pooling is encouraged.
WHEN: Saturday, September 11, 2021 at 2:30 pm
WHERE: Flight deck, USS Midway Museum, Navy Pier, 910 North Harbor Drive.
---