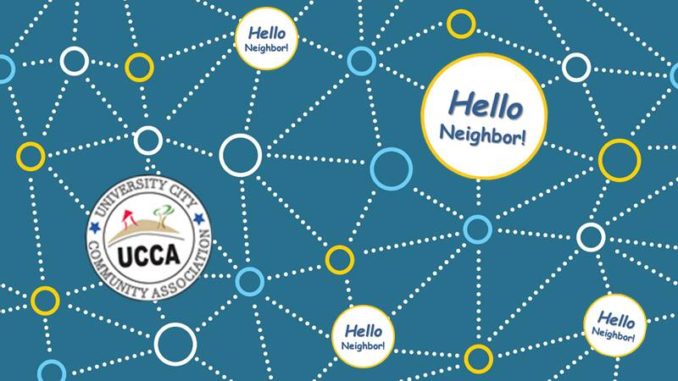 From UCCA President Barry Bernstein: As previously announced in the print University City News, UCCA's election of officers (president, vice-president, treasurer, and secretary) will take place on Wednesday, November 10. The preliminary agenda for the November 10 meeting is posted below.

Please note that there has been a candidate change for the treasurer position since the newsletter went to print. Current UCCA members are eligible to vote and online voting is available Monday and Tuesday, November 8 and 9. If you'd like to vote online, please email Don Hotz at don.hotz@yahoo.com for your ballot.

In-person voting takes place at the University Community Library, 4155 Governor Drive, beginning at 5:30 p.m on Wednesday, November 10. The election results will be announced at 7:45 following our regular November UCCA meeting.
If you are interested in having your name placed on the ballot or nominating a UCCA member please contact Mack Langston at langstonmack@gmail.com. There will be a place for "write-in" candidates on both the online and in-person ballot.
---
UNIVERSITY CITY COMMUNITY ASSOCIATION – ELECTION MEETING—IN-PERSON  6:00 P.M. COMMUNITY BRANCH LIBRARY
*5:30- IN-PERSON VOTING IN FOYER BEGINS
A G E N D A: (tentative)
6:00- Meeting called to order, Pledge of Allegiance
President's remarks- UCCA Elections/Redistricting
6:10- Approval of October minutes (vote)
Approval of agenda (vote)
6:15- SD Police report- Officer Bognuda
6:20- Legislative/UCSD updates/reports
6:30- Sabrina Bazzo- San Diego Board of Educ.
6:45- U.C. Fire/Safe Council proclamation/photo
6:50- OPEN FORUM- 3 minute per speaker
1. December 10-Christmas Tree/Menorah Lighting
2. UCPG Election for South U.C. rep- Chris
3. Other
7:00- COMMITTEE REPORTS
7:10- NEW/OLD BUSINESS
7:15- 2022-23 UCCA OFFICER ELECTION RESULTS
ADJOURNMENT- NEXT MEETING TBD. THE UCCA BOARD WISHES YOU ALL A VERY SAFE AND HAPPY HOLIDAY SEASON, SEE YOU AT OUR HOLIDAY EVENT ON DEC. 10TH !
---
Candidate statements:
President candidate Diane Ahern: In my current role at University City Community Association, I volunteer as the publicity and promotions chair. I help to manage UCCA's websites and I contribute to the print newsletter. I also serve as a liaison to MCAS Miramar, the Standley Park volunteer groups, the Fire Safe Council, the aviation safety group, and I help to write UCCA's SD County grant proposals. My first introduction to UCCA was through Neighborhood Watch when in 2013, I volunteered to be a street captain. I'll never forget my first UCCA meeting that year when Barry made his president's remarks and he warned us about increased traffic on Genesee that would result from the expansion of both the Mid-Coast Trolley and the UTC Mall. Fast forward to today and increasing traffic is still a challenge. These days I'm privileged to support local organizations and the activities of many dedicated community volunteers. I also help to publicize the meetings and activities of the UCPG planning group and community plan update subcommittee (CPUS), our City Councilmember, local news events, and community group activities. My connections and networks with community volunteers make me uniquely qualified to partner with UCCA's elected officers, board members and neighbors to enhance UCCA's mission to provide and promote the civic, cultural, social, educational and recreational development and improvement of University City; and to provide a forum where the interests of our residents may be expressed and contributions made to the protection of life and property in the community. Change is inevitable and we must be resilient and prepared to adapt to change. We don't yet know what the future may hold. My UCCA presidential goals include sharing news and information to help keep us all well-informed. I will also continue to encourage neighbors to volunteer their time and talents to influence today and to shape our future to keep University City more than just a neighborhood.
Vice-president candidate Mack Langston: Mack Langston has been a resident of San Diego since 1989 and University City for the last 18 years. He is married to Merle Berman Langston, a long-time resident of UC, who serves on the UCCA Board. Mack serves as UCCA's liaison to both the SD Network of Town Councils and the SD Working Group on Short Term Vacation Rentals and delivers the UCCA newsletter. This past year he volunteered and served as a San Diego State University Citizen Scientist project by gathering samples of genetic material from a variety of public places in South UC in a study of COVID-19 spread over several months. Mack seriously enjoys gardening, especially raising several varieties of Clivia, a flowering plant that is native to South Africa, nature photography and engaging with his grandchildren to experiment with instruments like guitars, ukulele, didgeridoo, piano and harp. Through his having lived in London and traveling internationally he has gained valuable insights into people working together in harmony. Professionally, he has managed portfolios of apartment properties in several states and served as President of the San Antonio Apartment Association and President of the San Diego Chapter of the Institute of Real Estate Management. He has been working full time as a broker in multifamily, hospitality, affordable and investment property sales for the last twenty years.
Treasurer candidate Jemma Samala: Jemma Samala has been the newsletter editor since 2014, and occasional UC Talks podcast host. As an active member of the UC community for over two decades, Jemma has held terms of president for the following groups: EdUCate!, Centurion Foundation, UC Little League, and Spreckels PTA. She has also been an active member with the UCHS PTSA, and developed and continues to run the Adopt-a-Family holiday program. Jemma was also the founding president of the UC Fire Safe Council and is the current Secretary. One season, she managed T-Ball – one season was enough. Jemma's current day job is working for the Vista Hill Foundation as the Assistant to the CEO and Executive Director. Previous day jobs include Magazine Publisher, Intellectual Property Analyst, Legal Analyst/Paralegal, Fashion Buyer, and Bookkeeper. She's great with numbers and loves creating excel spreadsheets. Her two sons attended UCHS and are thankfully supporting themselves and lives five minutes away (in the same house!). Jemma considers self-sufficient children successful parenting. Part of Jemma's dedication to the UC community was for selfish reasons in wanting to raise her children in a caring, active, productive community. And to teach by example. Results of which are yet to be seen. In her spare time, she likes to travel, have afternoon tea, read, and decorate her home according to the most current holiday. She maintains the Little Free Library on Arnoldson, which covers up her lack of gardening skills. And don't forget, Jemma for Treasurer!
Secretary candidate James Beshears: I really care about this unique area of San Diego where I have lived since 1994. I served on the July 4th committee for three years before going on the UCCA board. I am completing my first two-year term as Recording Secretary. The job mainly involves taking notes and preparing Minutes of the UCCA board meetings. It also involves preparing a summary of each meeting and providing the same to the Newsletter staff to insert into the monthly UCCA newsletter. The position also involves meeting and communicating with the board on various issues that arise. I have enjoyed serving the UC community by being the Recording Secretary. The next two years will see a lot of changes and plans for changes that will be developed. These include the accessory dwelling unit (ADU) debate and the new master community plan under progress that would increase density and make significant changes. I would like to serve another two-year term if the community desires to assist in addressing these issues and prevent a fundamental change to the UC community.