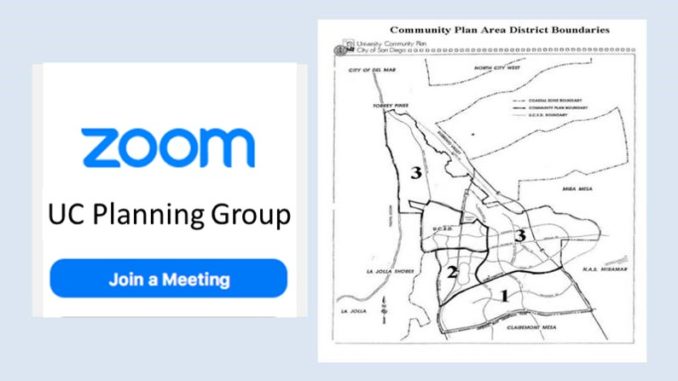 From UCPG Chair Chris Nielsen: The University Community Planning Group (UCPG) meets on Tuesday, January 11, 2022, at 6 PM using Zoom video conferencing technology. The link for joining the meeting is included below and is on page 3 of the Agenda as are instructions for using a phone. The agenda is attached below. Information about the University Community Planning Group (UCPG) is available at https://www.sandiego.gov/planning/community/profiles/university/agendas.
Item #7: Action Item: Due to Omicron, I recommend February's meeting be virtual. AB361 requires a vote each month to continue virtual meetings. Public health reasons must be cited in the resolution.
Item #8: Action Item: UCPG board member elections to be held March 8, 2022. A brief presentation will be given by Chris Nielsen and sent in the next few days. The board will be asked to determine election procedures, possibly similar to March 2021.
Item #9: Action Item: Discussion and possible action on a set of proposals to update the legal framework for Planning Groups to bring them into compliance with the city Charter. A presentation will be given by Chris Nielsen and be sent out in the next few days. Community Planning Group (CPG) Reform reference: https://www.sandiego.gov/citycouncil/cd1/policies-priorities
Item #10: Action Item: "Gilman Village" community plan amendment initiation and easement vacation, described in the agenda. Maps provided by the city showing the open space easement and MSCP are attached, along with the presentation by the applicant, the Rebecca Robinson Wood Trust. Rebecca Robinson Wood must recuse from discussion and voting but may participate in the presentation and answer questions. The UCPG may elect to submit findings along with its recommendation to substantiate its reasoning. Additional material may be sent for this item. City staff will recommend against removal of the Open Space Easement and change to the MSCP boundary.
Item 11: Information Item: TREES: The inadequacies of the City's Urban Forest policies, and request for advocacy for trees by Community Planning Groups. Carolyn Chase, Treewatch San Diego, presenting. A practical guide to what we can do collectively and as individuals to promote trees and implement smart urban forest policies.
The next UCPG meeting will be February 8.
UCPG January 11, 2022 agenda (PDF): 2022_01_11_Agenda_UC
For related posts, visit https://www.universitycitynews.org/category/ucpg/
---
To join the January 11, 2022, meeting by computer, copy and drop this URL into your browser or follow the link:
https://us02web.zoom.us/j/82652907174?pwd=SVdQVU5Ocy9CLzlRbUZqTmdoRk5Ddz09
Meeting ID: 826 5290 7174
Passcode: 526649
To dial in from your phone, find your local number:
Find your local number: https://us02web.zoom.us/u/kdVNYfm7nv
Meeting ID: 826 5290 7174
Passcode: 526649