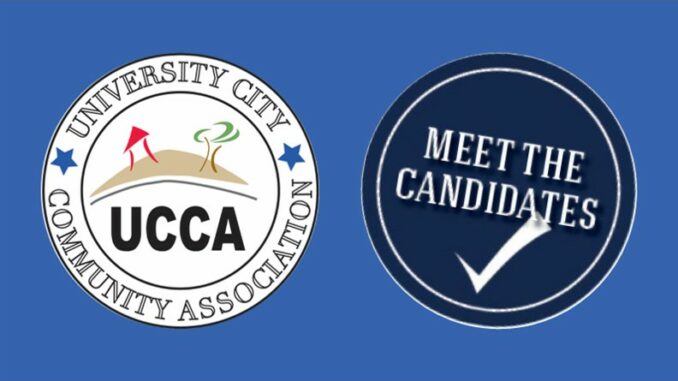 2023 UCCA Election Notice: The UCCA officer election will take place at the November 8, 2023, UCCA meeting. The election meeting will be in-person at the University Community Library, 4155 Governor Drive. UCCA members may vote from 5:00 PM to 7:00 PM. For more information, visit: https://www.universitycitynews.org/ucca-election-notice/
From UCCA Vice President Mack Langston: As the UCCA officer tasked with heading up the Nominating Committee, I am pleased to present the following four candidates. I believe each of them is well qualified to serve in these positions. Like the other volunteers who preceded them, I'm confident they will help to make our University City community more than just a neighborhood.
---
In 1999, we moved to University City because we wanted to raise our sons in a family-friendly community – and it was the best decision we ever made. And I try to give back to this wonderful neighborhood I call home, whenever I can. I am currently UCCA Treasurer, and the UC Newsletter Editor, which I have been for almost 10 years. I've been entrusted to be President of a number of UC organizations in the past, including: EdUCate!, Centurion Foundation, UC Little League, and Spreckels PTA. I founded the UC Fire Safe Council and restarted the UC Garden Club. I work full-time at Vista Hill Foundation, a non-profit that offers programs in the areas of mental/behavioral health, educational and social services. You can often find me outside in front of my home restocking my @LittleFreeLibraryonArnoldson, or in the backyard chasing my dogs out of the vegetable (wanna be) garden.
---
VICE PRESIDENT: Jim Beshears
I have been a resident of UC since 1994. I partially retired as a lawyer four years ago and fully retired almost two years ago. I wanted to do things to "give back" to the community so joined the July 4th Celebration Planning Committee about 7 years ago. I was on that for three years, was not active for two years when I was hiking parts of the Pacific Crest Trail, and rejoined the committee two years ago. I joined the UCCA in December 2019, and have been the recording secretary for the past four years. I have also attended a number of meetings of the CPUS and UCPG to discuss the best response to the City Community Plan Update. I am running for the position of Vice-President to continue my involvement in the community.
---
TREASURER: Phil Fowler
My wife and I have lived in south University City for over thirty years. We raised our children here, both of whom went to Spreckels, Stanley and UC High. I am retired from a career in banking where I worked in finance administration as a chief financial officer as well as other accounting related positions. I currently do the bookkeeping for two churches and one nonprofit organization. I also do volunteer Quickbooks Online consulting for various nonprofits across the country. I have always been impressed by UCCA and its dedication to the community. The newsletter is a wonderful gift to all of us in University City.
---
SECRETARY: Katie Rodolico
I am running for the UCCA recording secretary board position. I first moved to UC in 1966 when I was 4 1/2 years old and started kindergarten at Curie later that year. I graduated from Clairemont HS in '79… fast times! I attended SDSU and received a BS in Electrical Engineering. I did graduate work in software engineering at Penn State Great Valley. We came back to the neighborhood in 2001, first renting on Milliken then later buying the house I grew up in from my father. I've long been active in the community, especially since retiring at age 52. I was an advocate for changing the Pure Water route to avoid running close to our schools. I served on the Pure Water working group. I was appointed to the UCPG Community Plan Update Subcommittee by UCCA. I provided recaps of every meeting in the newsletter. I have attended most UCCA and UCPG meetings since I retired 9 years ago. Since I raised my kids here, I have met many of you when our kids played in local sports such as UCLL, Master your Sports basketball, and rec center Water Polo. I've met others of you through volunteering at the library book sales and the water aerobics classes at Swanson pool. I love living in this community. Please consider voting for me for recording secretary.