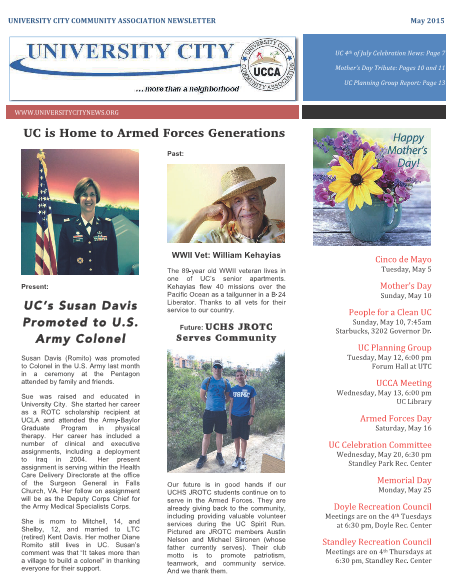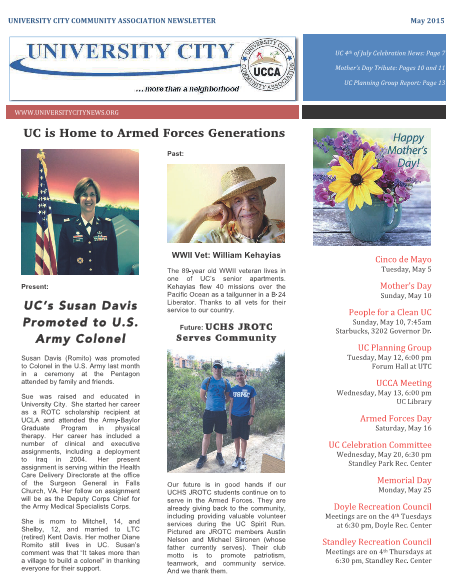 UCCA Newsletter May 2015 PDF is now online! This issue is crammed with useful information and timely local news and events, thanks to our contributors, advertisers and editor. https://www.universitycitynews.org/ucca-newsletter-archives/
Please thank the person who delivers your newsletter to your home and to the UC public libraries. May highlights include:
– UC moms and Mother's Day tributes
– School and neighborhood news and events
– Library events – correction: UC Book Club meets Wednesday, May 27 (not May 20
– Armed Forces Day, past, present, future
– 4th of July Celebration update
– Volunteer opportunities
– Spirit Run results
– Buy Local offers for UCCA members
– Welcome new UCCA members
– Imagine UC 2020 update
– UCPG (Planning Group) update
– Ads from UCCA newsletter sponsors
– and much, much more!