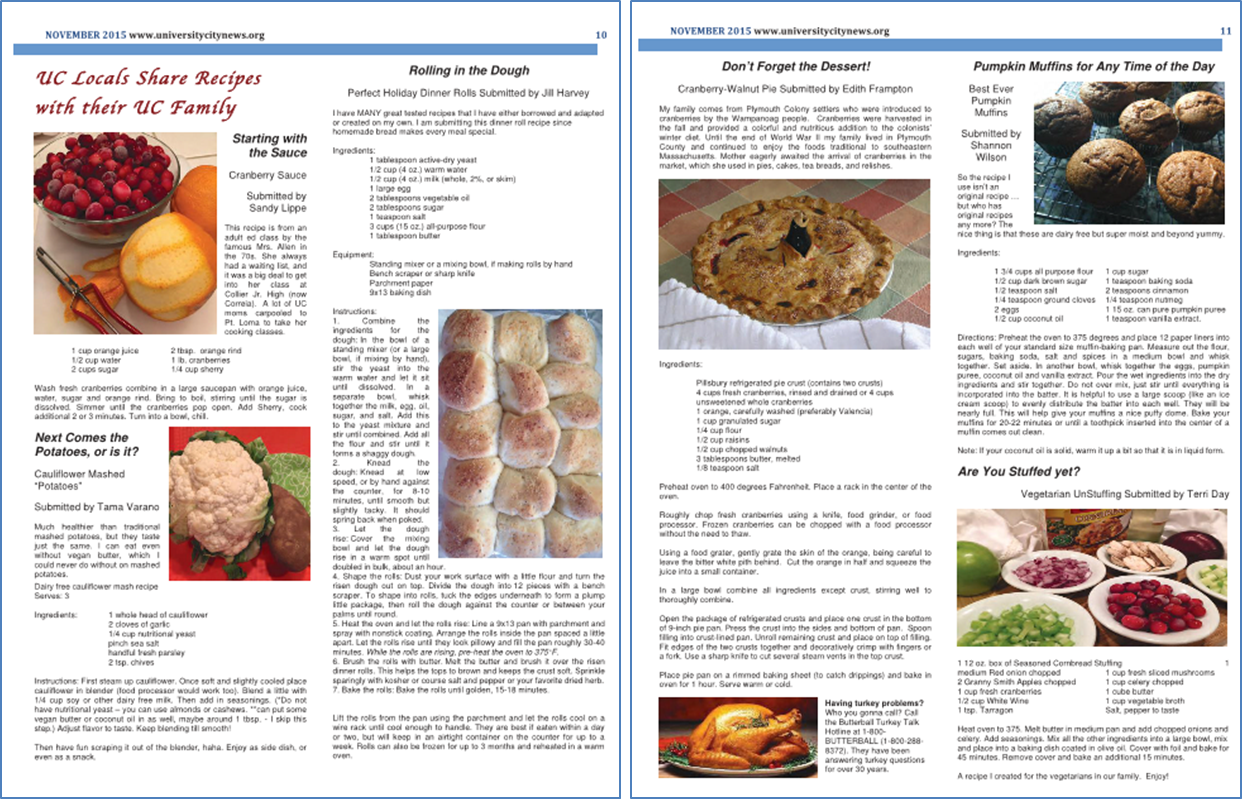 Jemma Samala is UCCA's newsletter editor:
November brings to mind one of my most favorite topics…food! Okay, family and friends too. But really, FOOD.

Since I'm the sister with the kids, we usually have Thanksgiving at my house. But since my sisters and parents are really the cooks, I get to sit back and let them take over the kitchen. My contribution is usually mashed potatoes, and some sauteed veggies – you can't mess those up. I'm actually the baker in the family, but for Thanksgiving I tend to travel the long road to get the Julian apple and pumpkin pies at my local Von's. Served with vanilla ice cream and homemade whipped cream, yummy.

The biggest tradition we observe during Thanksgiving, well of course is football. But not just on TV, but at Standley Park. There was a time when we would host the Turkey Bowl, if not on Thanksgiving Day, sometime that weekend. The boys and their dads would form teams, there was some sort of bracket going on, and we would potluck in snacks. The moms got a chance to visit with each other, getting a head start on pie sampling. Dads acted as quarterbacks, but as the boys got older, dads started getting sidelined and it was just for the kids.

Now they do the planning themselves. And since this year, many of the kids will be coming home for Thanksgiving from their respective areas of higher learning, I look forward to seeing this UC Turkey Bowl tradition continue.

Then back home, while the smells of the turkey is roasting, and we're adding pounds of butter to the potatoes, we turn on the TV to watch a friendly game of football, you know that Friends episode between teams headed up by Monica and Ross to compete for the family trophy. Yes, that lovely troll doll. Gotta love family traditions.

Happy Thanksgiving…and make sure to see the recipes in the November newsletter, on pages 10 and 11, submitted by our local UC cooks.
---
Note: If you have a news item to share, please submit your story through UCCA's Contact Us link at https://www.universitycitynews.org/contact-us-or-volunteer-in-uc/.  
Review article guidelines at https://www.universitycitynews.org/ucca-newsletter-archives/
What do Facebook, Twitter, Nextdoor, ImproveUC and UCCA have in common? They are all ways neighbors can connect with neighbors and the University City community. Create a post, start a conversation, share the news, organize an event, keep in touch, take a look: