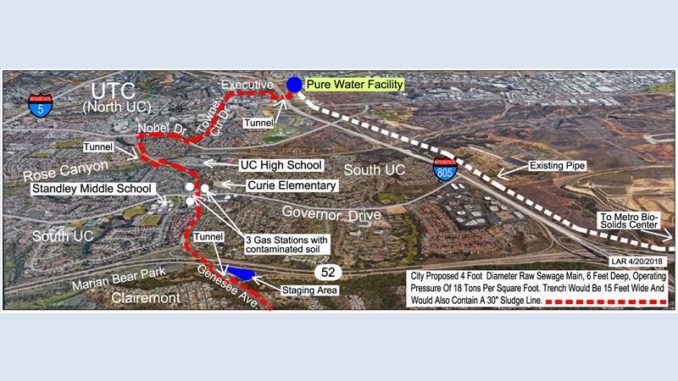 As reported on Nextdoor:
UCCF/ImproveUC president Ruth DeSantis has announced that the University City Community Foundation has filed a lawsuit (in regards the Pure Water pressurized sewer line).

University City Community Foundation (UCCF) has not raised all the money needed to pay for the lawsuit, so they are still accepting donations at https://uccfsd.org/. Donations are tax deductible.

Ruth reports that the planned route through Clairemont and University City was announced in Sept 2017 and it left very little time to rally the residents. She feels that most of University City and Clairemont still have no idea this is about to happen and if they do, they are slow to reach into their pockets to help us to help.

To make a donation and for more information about the Pure Water project, visit https://uccfsd.org/
For more information about the lawsuit, visit www.sdcourt.ca.gov; select Accessing Court Records; select Find a Case Number and Location; select Party Name Search; case type is Civil; case location is San Diego; party type is Plaintiff/Petitioner; beginning and ending dates are 2018; business name is University City Community Foundation; and submit. Filed 5/9/18; Case number 37-2018-00023240-CU-TT-CTL.
See also http://courtindex.sdcourt.ca.gov/CISPublic/casedetail?casenum=201800023240&casesite=SD&applcode=C
See also https://www.universitycitynews.org/?s=pure+water