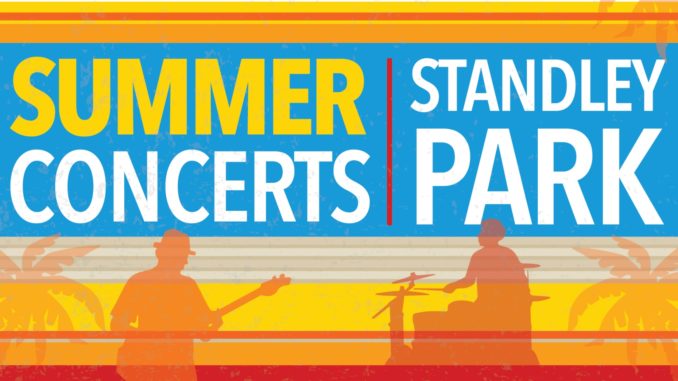 The 2019 Summer Concert Series consists of seven concerts featuring a variety of musical styles. The concert committee makes an effort to include many professional bands with local University City residents. This year features three returning favorites as well as several bands making their Concert Series debut. All concerts are at Standley Park, 3585 Governor Drive. All concerts are scheduled for Sunday evenings. Sound check and warmup begins at 4:30; concert from 5 to 7 PM.
Standley Park is a fun and family friendly venue with playground and large grassy area. Bring a lawn chair or blanket, snacks and drinks, and enjoy a lovely evening with friends and neighbors in University City. Arrive early to pick out a favorite spot in the shade. Don't forget your dancing shoes!
Please note that concerts are subject to cancellation due to inclement weather. Thank you to Scripps Health, the Recreation Council, UCCA, and other local donors, for their generous donations to sponsor the 2019 Summer Concerts.
7/14 – Ron & the Reapers – 60's Rock w/UC resident Dave Fleminger
7/21 – Teaser – Arena Rock w/UC resident Rick Kern
7/28 – Los Tecolotes (501c3) – Rock from the 60's thru the 90's w/UC residents Peter Bauer, Marcus Bauer & Ed Sanicki
8/4 – Electric Waste Band – Grateful Dead Jam Band w/UC resident Robert Harvey
8/11 – Full Strength Funk Band – Funk, R&B, Soul w/UC resident Pamela Gallo
8/18 – Y3K – Modern Variety Rock Band – a UC fan favorite 
8/25 – Forecast – A wide variety of Jazz Styles from Funk to Swing to Bossa w/UC resident Greg Pardue
---
Recreation Council (501c3) meets on fourth Thursday at 6 PM, at Standley Recreation Center, 3585 Governor Drive. The Recreation Advisory Group meets the same evening at 7 PM. All are invited and welcome to attend either or both meetings.
Save the date for the 2019 Banana Split Ice Cream Social, scheduled for Saturday, August 3.
For related posts, visit https://www.universitycitynews.org/category/parks-recreation-dept/
---
Please note: Do you have feedback? Suggestions?Do you represent a band interested in performing during the 2019 Summer Concerts? Send your comments to the Concert Committee:
Andy Freeburn – Concert Committee chair – promovstar@aol.com
John Schindel – President, Standley Park Rec Council – jschindel1@san.rr.com
Greg Pardue – Concert Committee member – band liaison – forecast@san.rr.com
For related posts, visit https://www.universitycitynews.org/category/parks-recreation-dept/þ