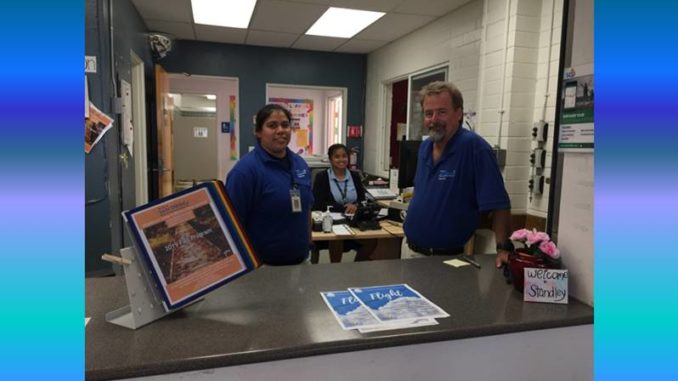 UCCA joins the Standley Recreation Center in welcoming assistant center director (ACD) Maria Carriedo, pictured left with recreation leader Hernica Judan and center director Roger Hughes. Most recently serving the Pacific Beach community, Maria is impressed with the amount of programming activity space, both inside and out, that's available for community use at the Rec Center. The Fall Standley schedule begins September 1 and Maria would like to highlight programming for all ages including Youth Flag Football; Pickleball and Racketball; the Connect 4 Tournaments every Wednesday at 1:30 PM; and the Quilt Again Club (adults 18 years and older) on Thursdays from 4 to 8 PM.
In other Standley news and updates:
Swanson Pool will begin its Fall schedule after Labor Day; and is planning lifeguard training during Thanksgiving break.
Parking lot, lighting, handball court and fence repairs/upgrades are underway at Standley Park.
Thanks to the individual or group that cleaned up the trail behind Standley Park.
Save the date for these upcoming events at some of our University City parks:
Sept 7 – Doyle Park sponsors Beautification Project
Sept 7 – UC del Sol softball hosts "Ralph Breaks the Internet" movie at Standley Park
Sept 14 – UCCF hosts "Greatest Showman" movie at Marcy Park
Sept 15 – Doyle Park hosts its annual Music and Arts Festival
Oct 4 – Nobel Park hosts "Casper" movie
Oct 12 – EdUCate hosts its annual "Oktoberfest" at Standley Park
Oct 25 – Standley Park hosts Halloween Carnival
For more information, visit the City's website at www.sandiego.gov and search by park or call the Recreation Center.
For related posts, visit https://www.universitycitynews.org/category/parks-recreation-dept/
---
University City "Parks Council" in the formative stages: On December 20, 2017, City Council approved R-311478 which (among other things) cancelled the recreation council special use permits, effectively forcing the existing recreation councils to dissolve. As of July 1, 2018, the City of San Diego's Parks and Recreation Department, under the direction of the San Diego City Attorney, formally separated the Standley Park Recreation Council from the City's Recreation Advisory Group. Since that time, the University City recreation councils (Doyle, Nobel, and Standley) have been taking steps to form a 501(c)3 Parks Council to support all University City parks. The Parks Council meets on the 4th Thursday of every month at Standley Recreation Center, 3585 Governor Drive, at 6 PM. The Standley Park Recreation Advisory Group (RAG) meets the same day at 7 PM. Both meetings are open to the public and all who have interests or concerns about any University City parks are invited and encouraged to attend.