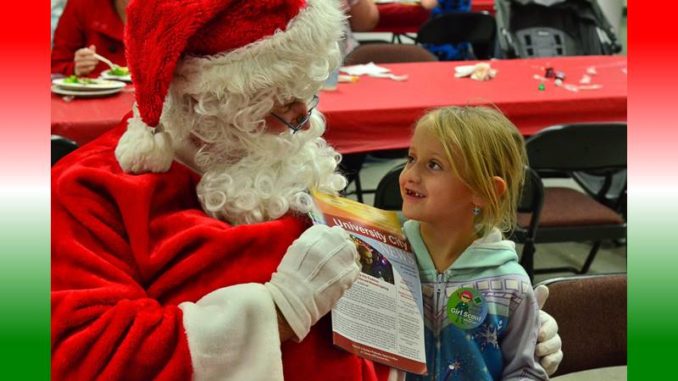 Thank you Santa! The 2019 Dinner with Santa and Christmas Tree and Menorah Lighting and related activities at Standley Park and Recreation Center may be over for another year, but our memories will live on forever through the wonderful photography of Greg Hom. Thanks to all who made this special University City tradition possible including the Recreation Center staff and volunteers, the Recreation Advisory Group, the Parks Council, and University City Community Association. Thanks also to UCCA's decorating and Christmas tree and menorah lighting committee lead by Darlene Ventimiglia with assistance from special events committee chair Barbara Henshaw.
Nothing is free, and we thank Costa Verde Regency Centers for their financial support. SANDAG graciously donated their lighting. Kudos to Vons and Carl's Jr. for the cookies and Coffee Bean for the hot chocolate. The delicious pasta dinner was catered from Lorna's and served by volunteers. Chief Connor from San Diego Fire Rescue and all the firefighters and trucks were a great hit with the kids and their parents.
This year's musical talents included Standley Middle School Marching Band, UC Girl Scouts, kindergarten singers from Doyle Elementary,  the OMC children's choir, and songwriter Tom Ventimiglia, singing his own Hannukah song. And of course, a special thanks to Santa Claus for paying us a visit.
Based on the pictures, and the huge crowd, it looks like a good time was had by all. Photos are courtesy of Gregory G. Hom, OD, MPH, FAAO, Inc., An Optometric Corporation, 11230 Sorrento Valley Road, Suite 145, San Diego, CA 92121, (858) 535-9835. He has provided them as a gift to University City and photos are set up for free downloads. Please take a look at https://ghom.zenfolio.com/p236631875
---
For related posts, visit https://www.universitycitynews.org/category/parks-recreation-dept/