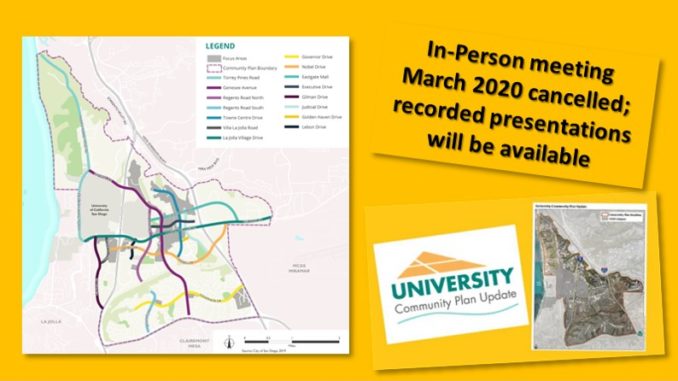 From Katie Witherspoon, Planning Department: The March 17, 2020, University CPUS (Community Plan Update Subcommittee) meeting will not be held in person. There will be no meeting at the High School in March.
The presentations will be recorded by the project team, and made available to view online. The project team will also provide an electronic comment card for the public to submit questions or concerns directly to the project manager. The recorded presentation will be made available the week of March 16, 2020.
We will send out the link to the presentation to the CPUS mailing list and will post the presentation on both the PlanUniversity.org and City of San Diego websites. An electronic comment card will also be made available.
To sign up for email updates, to download the agenda, and for other project resources, visit https://www.planuniversity.org/
For related posts, visit https://www.universitycitynews.org/category/ucpg/