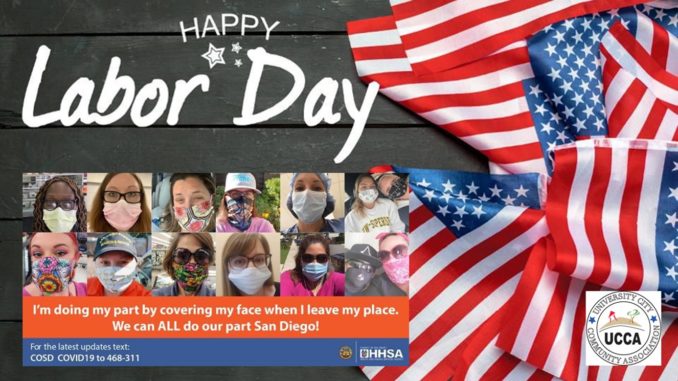 It's going to be a hot holiday weekend. Please enjoy yourself safely during this long Labor Day weekend. Let's all continue to follow the City's guidelines designed to prevent the spread of disease. Cloth face coverings or masks help reduce the spread of coronavirus, especially when combined with physical distancing and frequent hand washing.
Save the date for these upcoming events:
Tuesday, September 8, 2020: The San Diego Unified School District (SDUSD) board is scheduled to vote on final approval of the construction bid for the Standley Middle School project Imagine UC 2020 at their September 8 board meeting. Details at https://www.universitycitynews.org/2020/09/02/construction-alert-standley-spreckels-joint-use-improvements-imagine-uc-2020-expected-to-begin-soon/
Wednesday, September 9, 2020, 6 PM: UCCA will meet by Zoom. All are welcome. We will post the Zoom invite and tentative agenda on Tuesday. If you have an agenda item to suggest, please email us at UniversityCityNews@gmail.com.
Tuesday, September 15, 2020, 6 PM: The UCPG Planning Group has changed their meeting date this month to Tuesday, September 15, to allow for more time to review the Costa Verde project. Information at https://www.universitycitynews.org/2020/09/03/meeting-notice-september-ucpg-meeting-and-costa-verde-project-review-is-rescheduled-to-september-15-2020/
Tuesday, September 29, 2020, 6 PM: The Community Plan Update Subcommittee CPUS has been rescheduled for September 29, 2020.
From UCCA's president Barry Bernstein, thank you, have a wonderful and safe Labor Day weekend.