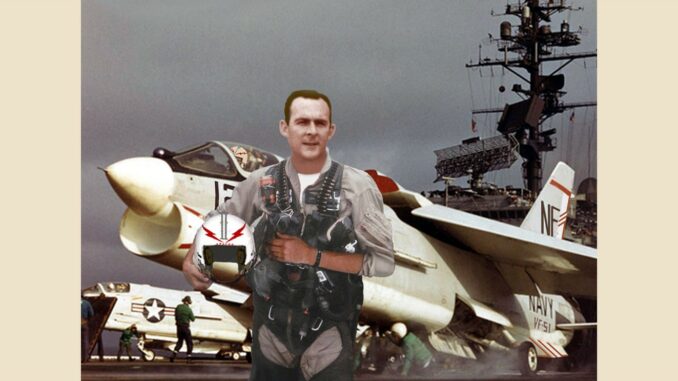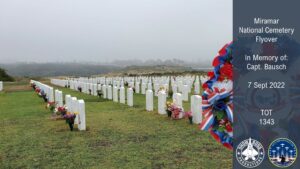 Update for Wednesday, September 7, 2022: A Memorial Flyover flyover is scheduled for September 7 at the National Cemetery to honor University City resident Norbert Lee Bausch.
The service is expected to begin at approximately 1:15 PM and the flyover is expected at approximately 1:40 PM. Those who are in the area of the National Cemetery may see the flight. Rest in Peace Captain Bausch.
For more information, visit MCAS Miramar Facebook: https://www.facebook.com/MCASMiramarCA
See also Miramar National Cemetery: https://www.cem.va.gov/cems/nchp/miramar.asp
---
Did you know that San Diego is home to over 200,000 veterans and over 100,000 active duty service members? On November 11, we celebrate Veterans Day. Unfortunately, many traditional Veterans Day parades and ceremonies drawing crowds from throughout San Diego County in past years have turned into virtual events this year in response to the pandemic. Here's a lineup of some patriotic celebrations, including drive-thru, in-person and virtual Veterans Day ceremonies from the San Diego Union Tribune: https://www.sandiegouniontribune.com/north-county-community-news/story/2020-11-04/veterans-day-events-2020
UCCA thanks all our veterans and the active duty community for their service. We continue our November tradition of featuring one of our local residents. This year we introduce Commander Norbert Lee Bausch, USN (retired), whose long, varied and illustrious career as test pilot, fighter pilot, ship's captain, accident investigator, and emergency nuclear operating instruction writer began in the Army Air Corps Cadet Pilot Training Program.
From Community Contributor Jerry Herrman: Having graduated from Brookline High School in Boston in 1944 at the age of 16, Commander Bausch had to wait until his 17th birthday, July 25, 1944, to enlist. His first choice was the Navy V-5 program. He had to accept his second choice, the Army Air Corp program and was sworn in as a Private. He began the required two years of college attending Universities of Connecticut and Maine in the Army Specialized Training Reserve Program.
In August 1945 the Navy v-5 opened up and was sworn in the Navy as an Aviation Midshipman in an Army uniform. He continued to fulfill the 2 years of college requirement studying engineering at Bloomsburg State Teachers College, Bucknell, where in joined the Sigma Chi fraternity, and Cornell Universities.
As a Midshipman he attended Selective Flight training at NAX Livermore, CA and Preflight at Ottumwa, IA, moved through flight training from Corpus Christi TX to Pensacola and Jacksonville, FL. (In Ottumwa Cdr. Bausch played wide receiver on the Aviation Midshipman football team. "We challenged the Annapolis Midshipman and beat them!) He was designated naval aviator as a midshipman in June 1948 following advanced fighter training in F4U Corsairs. Operated from Pacific Fleet carriers USS Boxer and Antietam as attack pilot and VA-155.
Received Commission as an Ensign USN in December 1949. Attended UC Berkeley to finish bachelors degree while flying with reserve squadron VF-873 at NAS Oakland. With the advent of the Korean War assigned to airborne early warning squadron TWELVE at NAS Quonset Pt. in Rhode Islnad. Completed Naval All Weather Flight School at NAS Corpus Christi in '51. Qualified for, and maintained for twenty consecutive years, the Navy's Special Instrument Flight Rating. Completed squadron tour flying AD-3/4W aircraft which included a Mediterranean deployment on USS Roosevelt in 1952.
A noteworthy mission was to escort a flight bearing the now Queen of England (returning to Britain after her father's death) from Malta across the Tyrrhanian Sea to the coast of France, over a joint NATO fleet exercise. In 1953 Assigned to NAS Oakland and served as Aviation Cadet Procurement Office and Fighter Flight Training Officer. Effected 240 four year flight training contracts (960 man years of service). Scheduled and conducted ground and flight training for three reserve fighter squadrons. Learned to fly jets from the manual and wrote syllabus and conducted jet transition for one Marine and seven Navy squadrons.
The training of 140 pilots was completed without accident or injury. Concurrent with assignment, attended University of California and completed work for BS degree. Selected for augmentation in 1955, and transferred to USS Point Cruz (CVE-119) then on station in South China Sea. Served as ship's First Lieutenant through deployment (3 typhoons) and decommissioning. After a two year tour at NAS Alameda with Tactical Air Control Squadron Twelve and completing eight week aviation safety course at the University of Southern California (Wally Schirra was class member), reported to VF-51 (Screaming Eagles) at Miramar.
Served as ship's First Lieutenant through deployment (3 typhoons) and decommissioning. After a two year tour at NAS Alameda with Tactical Air Control Squadron Twelve and completing eight week aviation safety course at the University of Southern California (Wally Schirra was class member), reported to VF-51 (Screaming Eagles) at Miramar.
Selected for Navy test pilot training at NATC Patuxent River (USNTPS Class 28) in fall of 1960 followed by a tour with the Service Test Division as Project Pilot, Fighter Aircraft Desk. Submitted application for astronaut training along with Al Bean who had the division's light attack desk. (Al was selected. I found out many years later my 6'4" frame was too tall for the space program.) Also turned down opportunity to attend Navy War College in order to complete testing assignment for which he had been trained at NTPS. Accepted as a member of The Society of Experimental Test Pilots.
In 1964 returned to fleet as XO VF-51 with embarked duty in USS Ticonderoga (CVA-14) and USS Constellation during Tonkin Gulf incident and onset of Vietnam air war. (James Stockdale was CO. Stockdale spent 7 years as a Vietnam POW, later Admiral Stockdale and Vice Presidential candidate.) Flew F8E Crusaders during this combat tour.
Reassigned to Navy Flight Test Center as head of Flying Qualities and Performance branch, Flight Test Division. Rounded out shore duty there as Division Chief Projects Officer. For this assignment led NATC pilot/engineer test team to NAS Boscombe Downs, England for comprehensive flight evaluations of operational British aircraft. During evaluation flew Buccaneer Mark II, Sea Vixen, Lightning Mark II, DH-125 Domini, Vulcan V and BLEU (Blind Landing Evaluation Unit) Comet adding up to 21 flights in 6 days. Assignment also provided opportunity to lead the Navy's Phase I NPE A-7 Corsair II test team at the contractor's Dallas plant and to make the first military test flight of the aircraft.
In 1969 serves as a senior command center watch officer in the Headquarters US European Command, Stuttgart, Germany, followed by assignment to the Emergency Actions Section of the headquarters. Participated in dive off Rota, Spain in nuclear submarine purpose to evaluate emergency actions crew response Rewrote and updated emergency operating instructions for use of nuclear weapons from submarines. Flew Air Force T-39 (Sabreliner) support aircraft missions throughout Europe in this assignment. The twilight tour was at NAS North Island as administrative officer. Retired from Navy in June 1974 as a Commander. Accumulated 6000+ flight hours in 52 types of aircraft.
Following military retirement, Commander Norbert Lee Bausch continued San Diego residence and established/operated international distributing business. Member Aviation Midshipmen Association, Tailhook Association, Association Naval Aviation, Society of Experimental Test Pilots, Experimental Aircraft Association and The Order of Daedalians. Served two tours in San Diego Reserve Senior Volunteer Police and 8 years, on the San Diego Citizens' Law Enforcement Review Board.
Commander Bausch has been a longtime member of Our Mother of Confidence Catholic Church. He and his wife Judith have seven children, nineteen grandchildren and are awaiting their 9th great grandchild. When asked his thoughts about his active and patriotic life, Commander Bausch responded, "If I could see and hear, I'd do it all over again!"
For related information posted by UCCA, visit https://www.universitycitynews.org/category/events/