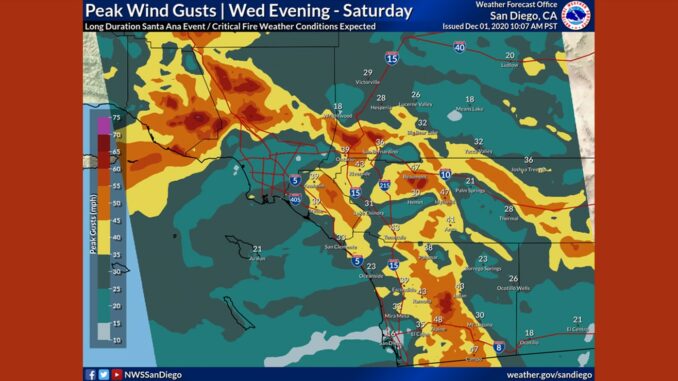 As San Diego County is about to go under High Wind and Red Flag Warnings beginning this evening at 6 PM https://www.weather.gov/sgx/, the Fire Safe Council urges all residents to reduce the chance of wildfire in our area. According to the San Diego Fire Rescue Deparment, no one knows when or where the next major wildfire will occur in our region. But it is a question of when — not if — it will happen. That's why San Diego Fire-Rescue has partnered with the International Association of Fire Chiefs to create the Ready, Set, Go! Wildland Fire Action Guide available at https://www.sandiego.gov/fire/safety/tips/readysetgo
Ready: Take personal responsibility and prepare long before the threat of a wildfire, so your home is ready in case of a fire.

Create defensible space by clearing brush away from your home.
Use fire-resistant landscaping and harden your home with fire-safe construction measures.
Assemble emergency supplies and belongings in a safe place.
Plan escape routes and make sure all those residing within the home know the plan of action.

Set: Pack your emergency items. Stay aware of the latest news and information on the fire from local media, your local fire department and public safety.
Go: Follow your personal wildfire action plan. Doing so will not only support your safety, but will allow firefighters to best maneuver resources to combat the fire.
For related posts from UCCA, visit https://www.universitycitynews.org/category/sdfd/
---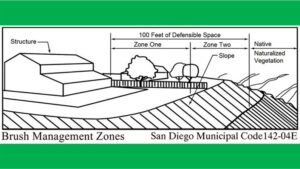 As originally published on November 3, 2020, at https://www.universitycitynews.org/2020/11/03/defensible-space-and-brush-management-in-canyons/: Homes located next to canyons are required to have 100 feet of defensible space. This is the area where combustible vegetation has been reduced, but not eliminated, to act as a barrier between the homes and an advancing fire. It is the responsibility of each homeowner to conduct brush management on their property consistent with San Diego Municipal Code (SDMC) Section 142.0412 and with required protections for environmentally sensitive lands.
The Open Space Division of the Park and Recreation Department is responsible for conducting brush management and vegetation thinning on city owned open space adjacent to privately-owned lots which are developed with "previously conforming" (legal) structures built prior to establishment of the city's first brush management regulations in 1989.
The most recent Open Space Division brush management cleanup in the University City area was completed in May 2020. They aren't scheduled to be back in our local area until the fall of 2021. Homeowners can conduct brush management or hire a private contractor to do so under certain conditions. Homeowners can also contact the Fire Hazard Advisor to request an inspection.
For more information, including schedules and contact information, can be found on the city's website Open Space Parks Brush Management Program page at sandiego.gov/park-and-recreation/parks/osp/brush
For more information about the University City Fire Safe Council:
For related fire safety tips, news and event, visit https://www.universitycitynews.org/category/sdfd/