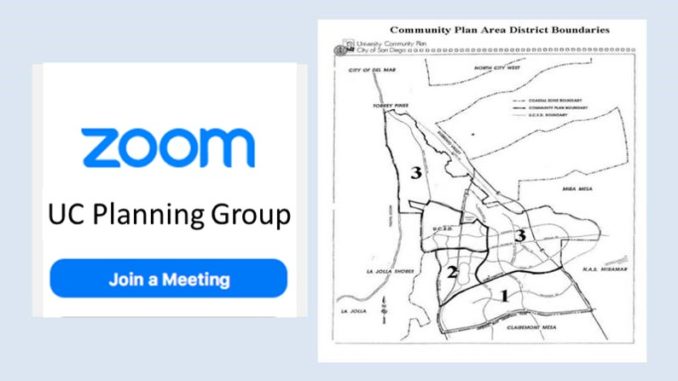 The University Community Planning Group (UCPG) will meet Tuesday, June 8, 2021, 6 PM, using Zoom video conferencing technology. The link for joining the meeting is included below and is on page 3 of the Agenda as are instructions for using a phone. The agenda and information about the planning group is available at https://www.sandiego.gov/planning/community/profiles/university/agendas. 
From UCPG Planning Group Chair Chris Nielsen: I've attached the UCPG meeting Agenda for June 8, 2021, the draft annual report, and the presentation by John Lee Evans on traffic calming on Governor Drive. I will send the One Alexandria Square presentation as soon as I receive it. Here are the agenda items we will have at the meeting:
Item 7: This is an Action Item for a letter to be sent to Joe LaCava's office requesting street restriping as a traffic calming measure on Governor Drive. John Lee Evens will present. Traffic Calming presentation by John Lee Evans available at: 2021_06_08_Governor Drive Traffic Calming
Item 8: This action Item is a final project recommendation for the One Alexandria Square project. One Alexandria Square presentation available at: 210608 OAS UCPG Update
Item 9: Our bi-annual list of CIP projects needs to be turned into the City in late August. Roger Cavnaugh will be leading this effort as CIP Subcommittee Chair as he did in 2019. We'll be discussing the 2019 CIP list, looking at which projects have received funding or may be funded through other projects. As Roger will explain, we will take community input at this meeting for further discussion and action at the July UCPG meeting.
Item 10: The draft of the 2020-2021 UCPG Annual Report is attached. We will discuss and perhaps approve the report. It contains a summary of our projects and actions, in both descriptive form and tabular form. The end of the report comprises the minutes from all of our meetings and is large; you need only use this for reference. Please review the first set of pages for items/issues I may have neglected to mention. Draft Annual Report available at: 2019_2020_UCPG Annual_Report
---
To join the meeting, drag-and drop this URL into your browser or follow the link:
https://us02web.zoom.us/j/87905488672?pwd=VGl4djJhbkM0bUFNVjB5dElReUR6UT09
Meeting ID: 879 0548 8672
Passcode: 280359
To dial in from your phone, find your local number at https://us02web.zoom.us/u/kbHhhIwFlv and follow the directions given.
Meeting participants will initially be admitted into the meeting "waiting room". I will move participants from there to the meeting itself. Participants will be muted on entry, and
will need to "raise their hands" to be recognized to speak. Thanks for your courtesy!
Some helpful hints:
Downloading the Zoom app to your device seems to give the best results. You may register for free and minimize the amount of follow-up email by choosing your email notification preferences.
The Participants button is at the bottom center of the Zoom video screen. Use this button to get both a list of participants and to expose the "Raise Hands" feature at the bottom.
Leave your device muted during the meeting; this helps keep extraneous background sounds from interfering with the meeting.
I will enable the meeting about 5:45. For those who have not used Zoom before in a formal meeting setting I will be available to help you test your meeting connection.