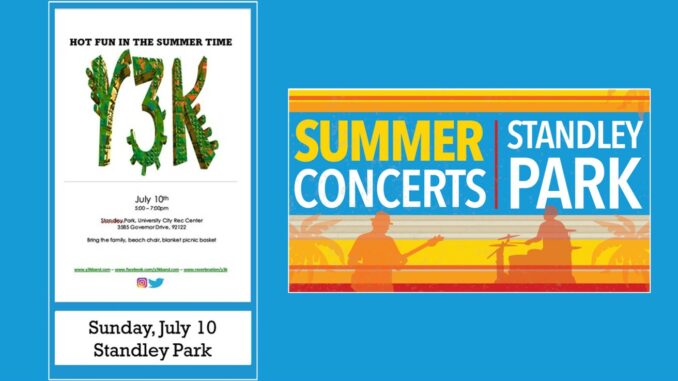 🎸🥁🎶📚 Hey there University City! It's Y3K kicking off the 2022 the "Hot Fun in the Summer Time" Summer Concert season at Standley Park, 3585 Governor Drive. Bring your friends, family and neighbors. Come early with your chairs, blankets, and picnic dinners … and your dancing shoes!
There is no cover charge; donations are welcome and proceeds benefit the University City Parks Council, the Summer Concerts event sponsor.
The used book sale "Book Barn" was so successful at the UC Celebration that we will bring it back for the Summer Concerts. Please stop by the Book Barn table to gather up some books for summer reading.
John and Andy would like help after the Concert to take down the stage and cleanup the park. If you can stay for a half-hour, they would greatly appreciate it.
4 PM – Arrive early to enjoy the park
4:30 PM – Y3K is expected to begin their warm-up
4:45 PM – Book Barn (used book sale to benefit the University City Parks Council) begins
5 – 7 PM – Summer Concert with Y3K
7 – 7:30 PM – John and Andy would like help taking down the stage and storing it at the Standley Rec Center
For more on the 2022 Summer Concert season, visit https://www.universitycitynews.org/summer-concerts-in-standley-park/