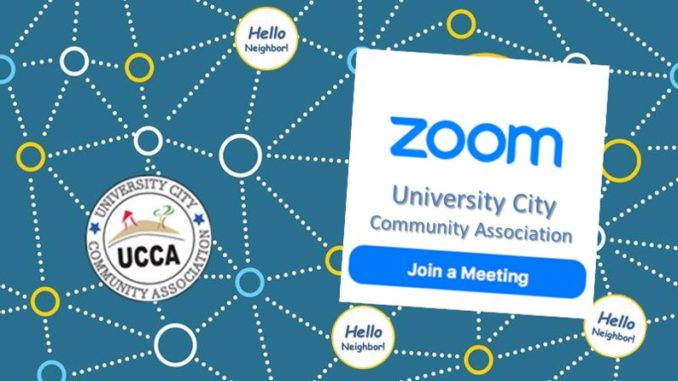 Zoom Recording of UCCA's July 13 2022 Meeting has expired.
UPDATE: At last night's July UCPG meeting, Nancy Graham (City Planning Dept) and Andy Wiese (CPUS chair) announced that the July CPUS has been cancelled so the City Planning Dept staff can have more time to research the answers to questions that have been raised by the CPUS and by community members.

While Nancy Graham is not expected to attend tonight's UCCA community meeting, Andy Wiese, Chris Nielsen (UCPG chair), and Katie Rodolico (CPUS committee member and UCCA rep) are expected to provide information and insight related to this change in the CPUS schedule.
---
The University City Community Association (UCCA) will meet on Wednesday, July 13, at 6 PM via Zoom. UCCA's focus this month is community updates including public safety, planning group, community plan update, public libraries, and the garden club.
In addition, we will hear from community and legislative representatives including city council, county, state and federal representatives. UCCA meetings also provide a public forum, announcements, and UCCA committee reports. This is a public meeting and all are invited. 
Why does UCCA host public meetings?  It's part of UCCA's mission … to provide a forum (print newsletter, website, public meetings, community outreach, event support, etc) where the interests of residents may be expressed and contributions made to the protection of life and property in the community.
If you have an agenda item to share or wish to speak during Open Forum, please contact us at UniversityCityNews@gmail.com. The Zoom information is at the end of this post. Preliminary agenda items include:
6:01 PM Welcome – Diane Ahern
6:02 PM Call to order – President's Remarks
• Park Social Exploration Day – at Standley and Gardens Parks – July 15
• Summer Concerts – Sundays at Standley Park
• National Night Out – Tuesday, August 2
• Banana Split – Saturday, August 6 at 2 PM
• Volunteer Appreciation Night – at Summer Concert on Sunday, August 28
• First Day of Public School – Monday, August 29
6:09 PM Approve Agenda – Vote
Approve Minutes – Vote
6:10 PM Public Safety
• Police Department – Officer Anderson Brown
• Fire Department
6:15 PM Legislative representatives – 3 minutes with Q&A
• Mayor Gloria – Matthew Griffith
• US Representative Scott Peters – Rachel Dugan
• CA Senator Toni Atkins – Cole Reed
• CA Assemblymember Chris Ward – Ansermio Estrada
• County BOS – Terra Lawson-Remer – Spencer Katz
• CM Joe LaCava – Kaitlyn Willoughby – Krissy Chan
• SDUSD School Board – Sabrina Basso
6:30 PM Community Leaders / Open Forum – 3 minutes with Q&A
• Community Planning Group (UCPG) – Chair Chris Nielsen
• Community Plan Update (CPUS) – Chair Andy Wiese
• Community Plan Update (CPUS) – UCCA rep Katie Rodolico
• Friends of the Library – Helen Lebowitz
• North University Community Library – Manager Michelle Ruiz
• Garden Club – Jemma Samala
• UC Celebration –
• Public Comment
•
7 PM Roll Call of UCCA Voting Members – Jim Beshears
UCCA Board Member and Committee Reports – 3 minute announcements and/or discussion
• Treasurer's Report – Jemma Samala – vote
• Membership Report – Hallie Burch
• Proposal for Street Banner District Expansion – Diane Ahern
• Committee Reports
•
•
7:20 PM
• UCCA – Old Business / New Business
• President's schedule in October
•
7:30 PM
• Adjourn – No formal meeting in August; next meeting Wednesday, September 14, 2022, 6 PM.
---
Zoom Info for July 13, 2022; waiting room opens at 5:55 PM; Meeting begins at 6:00 PM. For best results, log in to your personal Zoom account before joining the meeting. Please mute your audio. The Zoom information is printed in the July 2022 University City News newsletter and is included here.
Phone users, find your local number: https://us02web.zoom.us/u/kyh1keTiD
Meeting ID: 878 1346 9348
Passcode: 895214
Also meeting this week: UCPG (Planning Group) on Tuesday, July 12, 2022. Information at https://www.universitycitynews.org/2022/07/09/july-12-2022-ucpg-planning-group-meeting-agenda-and-information/