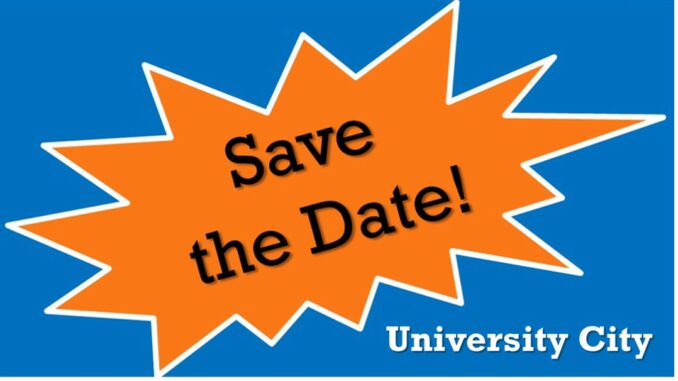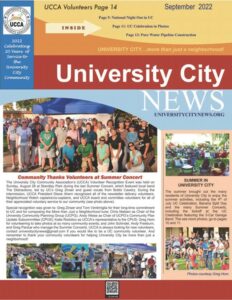 Hello University City neighbor, is it true? September is here and there's a lot going on in University City. Check out the September newsletter; it's available online today in PDF form at https://www.universitycitynews.org/ucca-newsletter-archives/ and will be delivered to our Libraries and Recreation Centers over the weekend. Meanwhile, here's a Short List of what's to come in September:
September Special Events:
Community Groups / meetings in September:
UCPG Planning Group on September 13, at 6 PM via Zoom. Agenda and meeting information, when available, will be posted at: https://www.universitycitynews.org/2022/09/10/sep-13-6-pm-ucpg-planning-group-meets-via-zoom-issues-agenda-for-their-september-meeting/
UCCA Community Association on Wednesday, September 14, at 6 PM via Zoom. For the latest University City News, visit our website at: https://www.universitycitynews.org/2022/09/11/wed-sep-14-6-pm-ucca-community-association-meets-at-6-pm-via-zoom-issues-preliminary-agenda/
CPUS Community Plan Update is scheduled to meet on Tuesday, September 20. The Plan University City website has been updated with information about the Community Plan Update. Take a look at https://www.planuniversity.org/
Standley Park Community Recreation Group (CRG) on Thursday, September 22, 7:00pm, at Standley Rec Center. Call Rec Center staff for meeting information: 858.552.1652
Fall Schedules begin at our Libraries, Parks, and Pools:
Summer Movies in the Park Schedule: https://www.summermoviesinthepark.com/
University Community and North University libraries monthly program schedules.
Pools and Parks and Recreation Centers program schedules.
October Save the Date:
Save the Date for General Election:
For the most up-to-date news and information, follow us on Facebook @UniversityCityCommunityAssociation and visit our website at UniversityCityNews.org