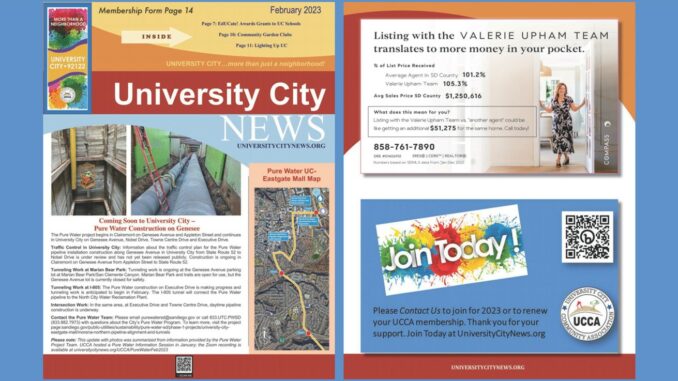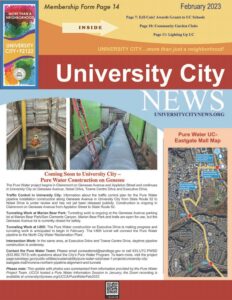 The February 2023 newsletter (PDF version) is now online and available to read, print, and share with family and friends. The print version of the newsletter will be available for distribution this weekend. Print versions will be available at the Libraries and Recreation Centers on Friday, February 3.
Let's support our local businesses. UCCA urges all members to refer to the advertising section our of print newsletter for current promotions from our local advertisers. While you wait for your print copy, you can view, share, and download the PDF version: https://www.universitycitynews.org/ucca-newsletter-archives/
Join UCCA Today! Thank you if you have already joined or renewed for 2023. And if you haven't yet: send your check with the membership form on page 14 of the December print newsletter: or go to Join UCCA Today at and pay online with your credit or debit card.
---
From UCCA president Diane Ahern: Happy New Year University City. This is our first print newsletter of 2023 and I find it's a time for looking back as well as for looking forward. Our world has changed quite a bit in the last year. The Standley Aquatic Center joint-use pool is now open, most of University City has a new City Council District and Councilmember, the Pure Water pipelines construction has begun, and we anticipate the completion of our Community Plan Update later this year.

Thanks to all who have already joined UCCA for the 2023 calendar year. Your membership dues help to fund many events and programs that would not be possible without your ongoing support.

This past year, the paper and print costs for our print newsletter have increased to the point where our advertising revenue no longer covers the cost of paper and printing. To help UCCA offset the increased cost, I'm asking everyone who hasn't already joined or renewed their UCCA membership to do so today. You're welcome to make an extra donation as well. You'll find membership information in this newsletter and on our website.

As we move forward into 2023, I thank you, the neighbors and friends who join UCCA and continue to support University City today as we, and those who came before us, have for the past 21 years.

The monthly print newsletter, community meetings, social media, website and news updates, 4th of July UC Celebration, Summer Concerts, Oktoberfest, public school fundraising and projects, holiday tree and menorah lighting, neighborhood watch, street banners, median beautification, utility box art … all of these events, programs and projects and more are sponsored in part through UCCA membership dues as well as through advertising revenue.

Speaking of advertisers – if you work with or represent a company with customers and clients in University City, please share this issue of University City News with them and ask them to support University City by advertising in an upcoming issue.

Our University City News print newsletter is unique. It is the only source of hyperlocal news in University City. You'll find news and features here that you won't find anywhere else. I'm confident you value it as much as I do.

I hope to see you at the next University City Community Association meeting, held on the second Wednesday of the month. UCCA provides a forum where the interests of residents may be expressed and contributions made to the protection of life and property in the community.

UCCA's public forum includes the print newsletter, website and social media, community outreach, event support, and public meetings. We have a lot to talk about. Thank you so much for helping to keep University City more than just a neighborhood.
---
UCCA will host a Zoom meeting on Wednesday, February 8, at 6 PM. This is a public meeting and all are invited to participate.
Topic: Zoom – UCCA University City Community Association Monthly Meeting
Time: Wednesday, February 8, at 6 PM
Join Zoom Meeting: Log in and Open your Zoom Account at: https://zoom.us/

Meeting ID: 897 6403 9153
Passcode: 180904