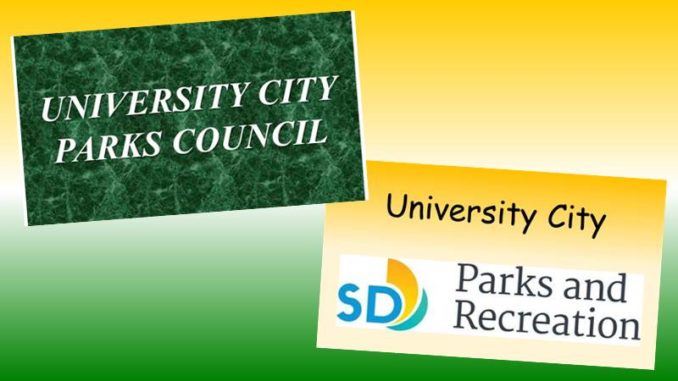 The University City Parks Council (UCPC, formerly known as Standley Park Recreation Council, SPRC) and the Standley Recreation Advisory Group (RAG) meet on Thursday, December 5, 2019, at Standley Recreation Center, 3585 Governor Drive. The Parks Council meets at 6 PM and the Standley Park Advisory Group meets at 7 PM. All who have an interest in University City parks are invited and welcome to attend either or both meetings.
Happy Holiday and other Happenings at our University City Recreation Centers include:
Standley Recreation Center hosts Dinner with Santa, Christmas Tree and Menorah Lighting on Friday, December 13, beginning at 5:15 PM for Dinner; followed by entertainment, crafts and activities; and ending with the Tree and Menorah lighting. Purchase dinner tickets at the recreation center; all other activities free. For more information, visit https://www.universitycitynews.org/2019/11/19/save-the-date-december-13-dinner-with-santa-christmas-tree-and-menorah-lighting/
Nobel Recreation Center hosts Cookies with Santa on Thursday, December 19, from 11 AM to 1 PM for children ages 0 to 6 years old. Free.
Doyle Recreation Center offers Kidz Love Soccer classes in January for ages 2 to 5. Online registration available now.
And don't forget, Swanson Pool, located at Standley Park, is closed for the Winter from December 30 through February 9, 2020.
For more information, visit the City's website at www.sandiego.gov and search by park or call the Recreation Center.
For related posts, visit https://www.universitycitynews.org/category/parks-recreation-dept/