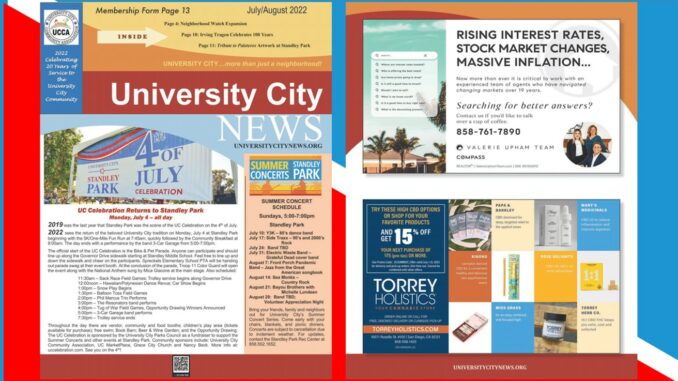 Hello University City, the July/August 2022 newsletter (PDF version) is now online and available to read, print, and share with family and friends. The print version of the newsletter will be available for distribution the first weekend of July; Friday, Saturday or Sunday, July 1,2, and 3. While you wait, you can pick up a print copy at the Library or Recreation Center on Governor on Thursday afternoon; or view, share, and download the PDF version.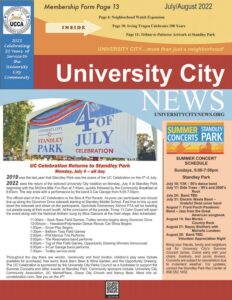 From UCCA president Diane Ahern: It's July and we're ready for Summer to begin. As I look back on the first six months of 2022, I'm so thankful that volunteerism is alive and well in University City. I applaud the many neighbors who serve on community boards such as the planning group, EdUCate!, the Parks Council, CPUS, UCCA, and many more.
A shout-out to all those who came together to plan the UC Celebration on the 4th of July, the Summer Movies, and the Summer Concerts and many other Summer activities at our local and community parks. Thanks also so those from I Love a Clean UC who pick up trash and remove debris from our main roads every month. You help to make University City more than just a neighborhood.
A shout-out also to the many volunteers who submit news items for the newsletter, who make home delivery possible, and who are part of our Neighborhood Watch groups. Congratulations to our University City Fire Safe Council which was recognized by City and County leaders as "Rookie of the Year" for creating and producing University City's first Community Wildfire Protection Plan.
In June, I had a chance to attend the meet-up of the newly re-grown UC Garden Club. What fun! It was such a wonderful time to learn and chat about plants and greenery and to meet with friends and neighbors.
The CIP (Capital Improvement Project) committee of the planning group is working on developing a safe passage plan for the Genesee / Governor intersection. Take a look at their report in this issue. The planning group and the community plan update subcommittee both met in June and you'll find summaries of those meetings in this issue. We learned that the planning department intends to have a draft community plan update ready for review in August. Please attend the July meeting of the CPUS for the most up-to-date information.
In this combined July/August issues of University City News, you'll find news and feature you won't find anywhere else. You'll find more on our website at UniversityCityNews.org. Thank you for reading. Have a great Summer. I hope to see you at many our community events this Summer. You'll find a quick recap of Summer events and meetings in the print newsletter and online in our Save the Date post at https://www.universitycitynews.org/category/events/
PS: UCCA will hold a public meeting via Zoom on Wednesday, July 13, at 6:00pm. Information and Zoom link is in the July/August print newsletter. Please join us.
---
See also at Standley Park: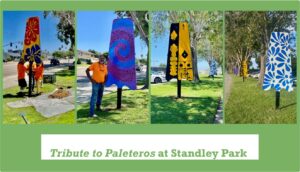 See also at Standley Park: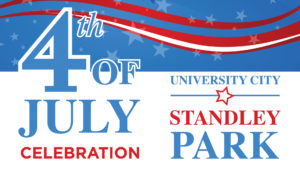 See also at Standley Park: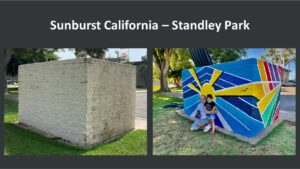 See also at Standley Park: