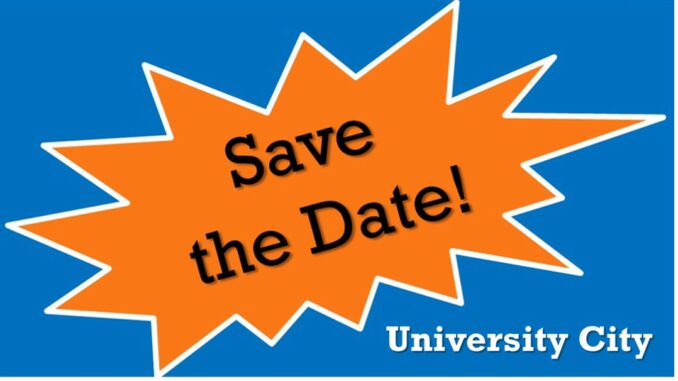 ➡️ Please note: The University City News website and print newsletter are free to read but are not free to produce and print and maintain. UCCA membership dues and advertising revenue help to make both the website and print newsletter possible. Membership dues also support many events, projects, and activities (such as the December Holiday Celebration) that make University City more than just a neighborhood.

 ➡️ Please join UCCA for 2023 at: https://www.universitycitynews.org/join-ucca-today/
---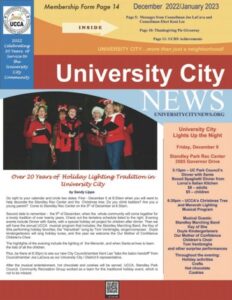 December is here and there's a lot going on in University City. The December 22/January 23 newsletter (PDF version) is now online and available to read, print, and share with family and friends. Print versions will be available at the University City Libraries and Recreation Centers as of Friday, December 2. 
Let's support our local businesses. UCCA urges all members to refer to the advertising section our of print newsletter for current promotions from our local advertisers. While you wait for your print copy, you can view, share, and download the PDF version: https://www.universitycitynews.org/ucca-newsletter-archives/
Join UCCA Today! Thank you if you have already joined or renewed for 2023. And if you haven't yet, no worries. Please mail your check to UCCA with the membership form on page 14 of the December print newsletter; or go to Join UCCA Today and pay online with your credit or debit card.
Holiday Season starts now!
For more Events News, visit: https://www.universitycitynews.org/category/events/
For Crime and Safety News, visit: https://www.universitycitynews.org/category/neighborhood-watch/
---
December 2022 Save the Date
Special Events and Programming: 
Community Groups / meetings in December:
Winter Schedules begin at our Libraries, Parks, and Pools:
January 2023 Save the Date
Let's Keep in Touch! Follow Us: