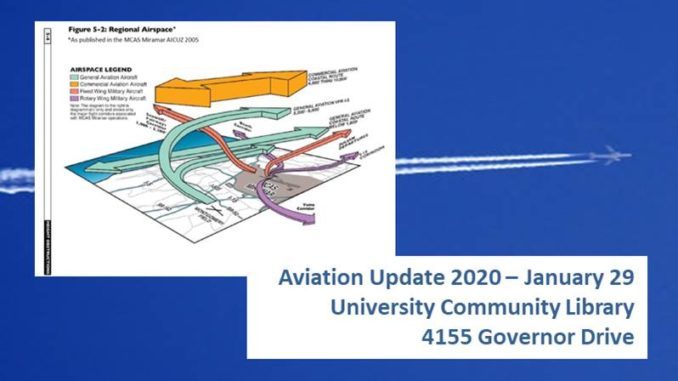 UCCA's Citizens Advocating Safe Aviation (CASA) committee was proud to coordinate an Aviation Update 2020 information session at the University Community Library on Wednesday, January 29, 2020. Aviation Update 2020 was a community information session focused on the University City area that provided information about current and future aviation-related projects and programs that affect residents, workers, visitors and students; and an opportunity for networking and the exchange of ideas.
University City is located at the crossroads of aviation traffic. Residents experience local flights arriving and departing from San Diego International, Montgomery-Gibbs, Gillespie Field and MCAS Miramar airports on a daily basis as well as countless trans-regional, trans-continental flights, and international flights. San Diego International Airport has plans to rebuild Terminal 1 to accommodate greater numbers of passengers, Montgomery-Gibbs Airport has plans to increase capacity, and the FAA is implementing its NextGen plan for the redesign of airspace. MCAS Miramar is expecting a new air-frame (the single engine F-35C) and is in the process of updating their Airport Installation Compatibility Use Zone (AICUZ) document. In addition, University City is undergoing a community plan update; and the UCSD and University City student, resident and employee populations are growing rapidly. There is a lot going on — both on the ground and in the air.
Speakers included representatives of San Diego International Airport (Lindbergh Field), Quiet Skies La Jolla, Montgomery-Gibbs Airport, Montgomery Gibbs Environmental Coalition, MCAS Miramar, Citizens Advocating Safe Aviation, and the event coordinator Diane Ahern.
[Links to presentations below; see also Aviation Update 2020 report filed by Jemma Samala, visit https://www.universitycitynews.org/2020/02/04/whats-up-in-our-skies-aviation-update-2020-presentation-opens-up-our-eyes-about-our-skies/]
Topics, speakers, and links to presentations included:
FAA's Next Generation (NextGen) for the Redesign of Airspace – Diane Ahern:
San Diego International Airport Lindbergh Field – Brendan Reed:
Quiet Skies La Jolla – Anthony Stiegler and Dr. Anthony Price:
Montgomery-Gibbs Airport – Jorge Rubio:
Montgomery Gibbs Environmental Coalition – Sandra Stahl:
MCAS Miramar – Kristin Camper:
Citizens Advocating Safe Aviation – Ron Belanger:
Legislative representatives and distinguished guests include included City Councilmember Barbara Bry's office, UC San Diego (UCSD), County Supervisor Kristin Gaspar's office, US Congress Representative Scott Peters's office, State Senator Toni Atkins' office,  Montgomery-Gibbs Airport Operations Manager, UCCA President Barry Bernstein, and Library Manager Melissa Martin.
---
As written by Jemma Samala and published by the La Jolla Village News, February 7, 2020, on page 7 : http://matchbin-assets.s3.amazonaws.com/public/sites/351/assets/C26A_LJVN_02_07_20.pdf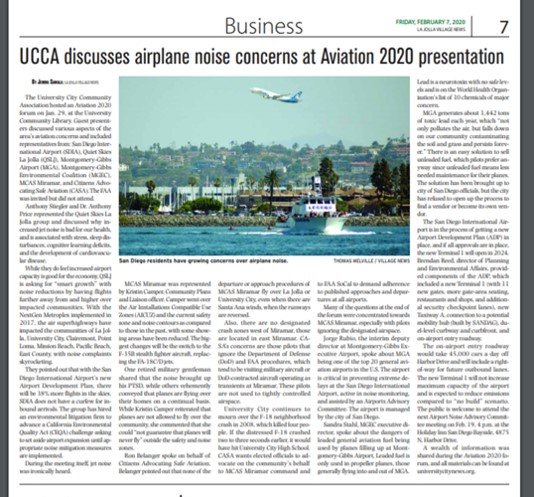 ---
Diane Ahern is a volunteer and University City Community Association's publicity and promotions chair. She is the liaison to Citizens Advocating Safe Aviation and to MCAS Miramar Community Leaders Forum. Diane Ahern provided an update on NextGen using information posted on the FAA's website regarding NextGen.